Press Releases
EIZO Expands Lineup of USB Type-C Monitors with 27-Inch Sustainable Model for the Workplace or Home Office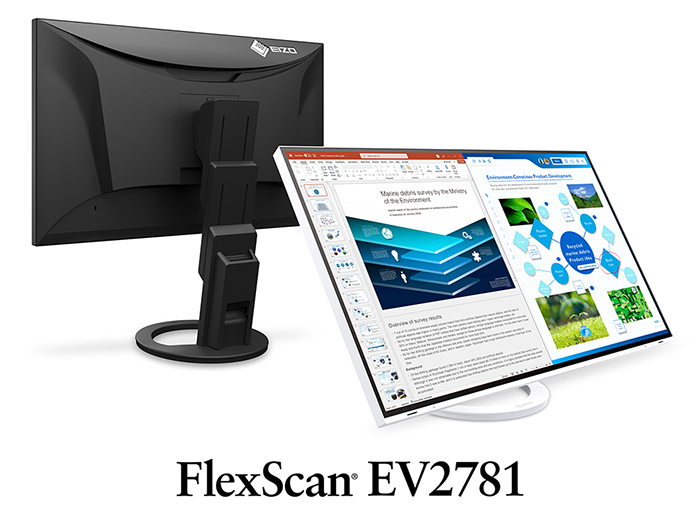 Hakusan, Japan, June 2, 2022 – EIZO Corporation (TSE: 6737) today announced the release of the FlexScan EV2781 – a 27-inch, frameless IPS monitor with 2560 x 1440 resolution equipped with a USB Type-C terminal for improving productivity and sustainability features for lessening impact on the environment.
The FlexScan EV2781 joins EIZO's line of FlexScan New Standard business monitors which offers a range of sizes from 23.8 to 31.5 inches and features USB Type-C connectivity. It is the first New Standard monitor to offer a high resolution of WQHD (2560 x 1440 pixels) in a large 27-inch screen size. This is 1.8 times more screen space than conventional Full HD (1920 x 1080 pixels) monitors, which provides more comfortable display of multiple windows for efficient multi-tasking.
A USB Type-C connection allows users to display video, playback audio, transmit USB signals, and supply 70 watts of power to connected devices, such as laptop computers. With many modern laptops designed for portability, this convenient connectivity makes it faster and easier to connect in hot desking environments or when working away from the office.
The monitor comes with the Picture-by-Picture (PbyP) function, which enables two PC inputs to be displayed simultaneously on the screen. This streamlines operation and saves valuable time during conferences and meetings by removing the need to switch input sources. Furthermore, PbyP makes it simple to compare data with a coworker side by side, as well as share information from multiple sources on a single screen.
Contributing to a more sustainable future remains an important goal for both businesses and consumers who are looking to manufacturers to carry out environmentally friendly initiatives. As part of EIZO's commitment to care for the environment, the EV2781 is made of 61% recycled plastic. This cuts down on the amount of plastic waste going into the environment, conserves resources, and promotes reuse of materials for preserving the natural ecosystem. The monitor also reinforces EIZO's initiative to move away from using plastic and styrofoam in product packaging. The monitor is safely packed using molded pulp, which is made from recycled cardboard and newspaper, and cables are wrapped in paper instead of plastic bags.
The FlexScan EV2781 is certified by worldwide comprehensive sustainability standards including TCO Certified Generation 9, EPEAT, and EnergyStar. In addition, EIZO is taking its own steps to contribute to the initiatives set forth by the United Nations' Sustainable Development Goals (SDGs) with the environmentally friendliness and higher work efficiency of its FlexScan business monitors.
The monitor implements a virtually frameless design for a minimalistic aesthetic. In addition to sleek black, the cabinet is available in white for a color option that keeps the workspace feeling bright. The monitor also comes with a stand and cables that match the cabinet for full color coordination.
Additional Features
DisplayPort, HDMI and USB Type-C video signal inputs
Four USB Type-A ports for easily connecting peripherals such as keyboard, mouse, or web camera
Eye care features including anti-glare coating, flicker-free display, and Paper mode
Automatic brightness control via Auto EcoView and EcoView Optimizer 2 for maximum power savings
Versatile stand with height adjustment, tilt, swivel, and pivot
5-year warranty and 6-month no bright pixel guarantee

Availability
The FlexScan EV2781 will begin shipping in July. The date of availability may vary by country or region. Contact the nearest EIZO group company or distributor for details.

Product Information
About EIZO
EIZO (TSE:6737), which means image in Japanese, is a visual technology company that develops and manufactures high-end visual solutions to enrich people in their professional and personal lives. EIZO offers total imaging solutions with a range of monitors, software, video capture, processing, and distribution solutions, cameras, and advanced integrated technologies to meet the specialized needs of customers in business, creative fields, healthcare, air traffic control, maritime, security & surveillance, and more. Headquartered in Hakusan, Japan, EIZO has R&D and manufacturing facilities in Japan, China, Germany, and the United States, and representation in more than 100 countries.
EIZO, the EIZO logo, and FlexScan are registered trademarks of EIZO Corporation in Japan and other countries. The terms HDMI and HDMI High-Definition Multimedia Interface, and the HDMI Logo are trademarks or registered trademarks of HDMI Licensing, LLC in the United States and other countries. USB Type-C is a registered trademark of USB Implementers Forum, Inc. All other company names, product names, and logos are trademarks or registered trademarks of their respective owners.