Press Releases
New Large Monitor Manager from EIZO Simplifies the Workflow of Doctors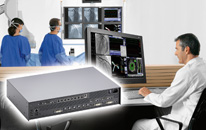 Karlsruhe, Germany, November 8, 2010 – EIZO GmbH, Display Technologies introduces its new Large Monitor Manager LMM0801-L. This image manager allows the flexible composition of digital images on large format monitors for interventional radiology, cardiology and surgery.
In modern operating rooms there is an increasing number of varied image sources which need to be displayed at the same time. Therefore, there is a trend in showing the various images with the assistance of an image management system on only one monitor. This considerably simplifies steps needed, e.g. in the control room, allows work to be done more quickly and without getting tired, and saves space.
The LMM0801-L has 8 video inputs which can be shown in any combination on a 4 megapixel monitor. As 4 megapixel monitors, EIZO provides the models RadiForce RX430 and MX300W. Compared with EIZO's existing image manager LMM56800, which is designed for an 8 megapixel monitor, the number of inputs is reduced to enable a less costly overall solution.
The Large Monitor Manager can very flexibly carry the various image signals together. Six inputs of this image manager can process DVI signals at resolutions up to 1920 x 1200 including full HD (1920 x 1080). Two of the video inputs can selectively process analog signals, including PAL and NTSC, or DVI signals. The LMM0801-L enables the concurrent display of various image sources on the connected monitor in user-defined layouts. Various image compositions suitable for the relevant application can be defined in advance and the optimum display mode can be called up for the current step in the procedure with the mouse connected to the LMM0801-1.
In addition, the Large Monitor Manager has a keyboard mouse switch (KMS) function. With just one keyboard and one mouse, up to eight different applications and pictures from different computers can be displayed and operated. For the KMS function 8 USB (B) downstream channels are available to the image source processors. The local keyboard and mouse is connected using USB (A). In addition, further USB ports are available to connect external devices.
Another important property of the LMM0801-L is its very short power-up time, the standard configuration is displayed just 3 seconds after you switch on the monitor. This guarantees immediate availability, even after a power failure. A monitoring function for all the relevant components of the device and the possibility to communicate with the higher level of the system allows high functional safety.
The new Large Monitor Manager is designed in accordance with the special requirements of the medical field, so an ambient temperature of up to 45° C is permitted and the electrical safety is tested to IEC 60601-1. In addition, electronic components are selected which are available in the long term to guarantee long-term system continuity.
See product page for more details.
Availability
Production of the LMM0801-L is planned for the start of 2011. The availability can differ depending on country, so please contact the EIZO subsidiary or distributor in your country for details. Visitors to Medica 2010 in Düsseldorf, Germany will be able to get a first look at the product at the EIZO stand, Hall 10, #G41.
About EIZO GmbH
EIZO GmbH, Display Technologies is based in Karlsruhe, Germany and is a leading manufacturer of visual display solutions for medical imaging applications. The portfolio of the company contains color and grayscale monitors of 1 to 10 megapixels, image management systems and accessories. EIZO GmbH is a subsidiary of Eizo Nanao Corporation, a global leader in the manufacture of high end monitors for medical and graphic design applications, financial trading, and other markets.
For more information, please contact:
EIZO GmbH
Display Technologies
Siemensallee 84
76187 Karlsruhe
Germany
Phone: +49 721 20321-0
Fax: +49 721 20321-474
www.eizo.eu
dt-contact@eizo.com
EIZO and RadiForce are registered trademarks of Eizo Nanao Corporation.