Press Releases
EIZO Presents a New Widescreen Monitor for the Operating Room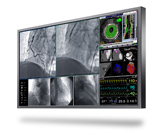 Karlsruhe, Germany, September 27, 2011 – EIZO GmbH, Display Technologies today introduced the RadiForce LX600W, a large widescreen LCD color monitor with an LED (light-emitting diode) backlight. This 8 megapixel monitor is designed for use in operating rooms (interventional radiology, cardiology, and surgery). The new product expands the EIZO portfolio of widescreen medical monitors with an additional unit that provides a larger image area and improved features.
The RadiForce LX600W widescreen monitor features a 3840 x 2160 pixel native resolution and 60-inch screen. It provides unlimited, flexible image display and is the ideal solution for modern operating rooms. Increasingly, the integration of different imaging systems and multiple surgical disciplines in the same room (hybrid OR) requires variable solutions.
The new 8 megapixel monitor has an improved contrast ratio of 4000:1 and higher brightness values of 520 cd/m². It is also equipped with an LED backlight. This guarantees optimum working conditions and an extended monitor life.
The RadiForce LX600W utilizes the proven safety concept found in the existing model such as redundant critical components. Real-time image display guarantees a safe and stable working environment for the surgeon. Additionally, homogeneous brightness uniformity across the entire screen and 5 integrated, calibrated look-up tables provide the highest display precision to meet the requirements of a broad array of applications.
In addition to the basic version of the monitor, there is also a model with protective glass. It protects the screen surface against damage, scratches and fluids, and simplifies cleaning and disinfection of the front of the monitor.
The RadiForce LX600W utilizes an improved cooling concept, which means that fewer fans are needed in the unit. This is of particular importance in operating rooms, where air turbulence is to be avoided to the extent possible.
See product page for more details.
Availability
Production of the RadiForce LX600W is planned for the first quarter 2012. Availability varies by country so please contact the EIZO subsidiary or distributor in your country for details. Visitors to Medica 2011 in Düsseldorf, Germany will be able to see the new product for the first time in the EIZO booth, Hall 10, #G41.
About EIZO GmbH
EIZO GmbH, Display Technologies is based in Karlsruhe, Germany and is a leading manufacturer of visual display solutions for medical imaging applications. The portfolio of the company contains color and grayscale monitors of 1 to 10 megapixels, image management systems and accessories. EIZO GmbH is a subsidiary of Eizo Nanao Corporation, a global leader in the manufacture of high end monitors for medical and graphic design applications, financial trading, and other markets.
For more information, please contact:
EIZO GmbH
Display Technologies
Siemensallee 84
76187 Karlsruhe
Germany
Phone: +49 721 20321-0
Fax: +49 721 20321-474
http://www.eizo.eu
dt-contact@eizo.com
EIZO and RadiForce are registered trademarks of Eizo Nanao Corporation.