Press Releases
EIZO Updates Its Flagship ColorEdge Monitors with New 27" Models
Hakusan, Japan, February 26, 2014 – EIZO Corporation (TSE: 6737) today released the 27-inch ColorEdge CG277 and CX271 color management monitors.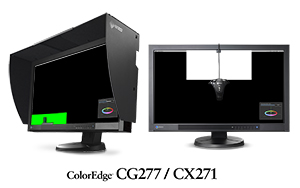 The ColorEdge CG277 is targeted at professionals in digital photography, prepress, video editing, post production, and other fields that require the most predictable color in their workflow. It features a sensor that is housed inside the monitor and swings up onto the screen for self-calibration. The ColorEdge CX271 is ideal for professionals and prosumers in photography and design. It houses an internal correction sensor that maintains the calibration results after the monitor has been calibrated with an external sensor.
The ColorEdge CG277 and CX271 include the advanced features of previous 27-inch ColorEdge monitors while offering a new wide-gamut IPS (in-plane switching) panel that reproduces 99% of the Adobe RGB color space. In addition, dark tones retain their depth, even when the screen is viewed at an angle in a dimly lit photographic or post production studio. An LED backlight reduces power consumption by 40% and utilizes brightness modulation technology to minimize flickering and eye fatigue.
During the development of the ColorEdge CG277, photographer Carl De Keyzer of Magnum Photos, tested the monitor and commented, "The calibration system is astonishing – for the first time I can calibrate my screen without professional help. The colors are entirely in line with what comes out of my large printers, so no guessing anymore; just true what you see is what you get."
For brightness and color uniformity, EIZO uses its own Digital Uniformity Equalizer (DUE) technology. DUE ensures a Delta-E difference of three or less across the screen. It also counterbalances the influences that a fluctuating ambient temperature may have on color temperature and brightness.
EIZO's proprietary ColorNavigator calibration software comes bundled with both monitors. ColorNavigator is used for setting the target values for brightness, gamma, and white point, and generating an ICC profile. ColorNavigator has a scheduling function that activates the self-calibration and self-correction functions of the ColorEdge CG277 and CX271 respectively. The software offers several advanced functions such as emulating the color characteristics of smart phones, tablets, and other devices, and profile validation for verifying calibration results.
For video editing and post production, the ColorEdge CG277 has a 3D LUT (look-up table) that adjusts color individually on an RGB cubic table. With ColorNavigator software's emulation function, the 3D LUT applies a film look to the image so creators can preview how the image will be seen by their audience. The ColorEdge CG277 comes with several media-standard preset color modes: Rec709, EBU, SMPTE-C, and DCI. It also accepts 4K x 2K signals and downscales them to its native resolution of 2560 x 1440.
The ColorEdge CG277 is recognized by Fogra as a Class A FograCert Softproof Monitor. Using the CG277 in a FograCert Softproofing System ensures designers, print specifiers, and print producers can rely on the soft proof for predictable and consistent results.
ColorEdge CG277 and CX271 Shared Features
Gamma curve for each monitor adjusted on the EIZO factory line.
DisplayPort, HDMI, and DVI-D input terminals.
10-bit display1 (more than one billion colors simultaneously) from a 16-bit look-up table via the DisplayPort input.
USB hub with two upstream and two downstream ports.
Stable brightness chromaticity, and tone characteristics within seven minutes after power on.
Ergonomic stand with 25° tilt, 344° swivel, portrait mode, and 151.5 mm height adjustment.
Five-year manufacturer's limited warranty including the LCD panel and a 12-month pixel defect warranty for the CG2772.
Availability
The ColorEdge CG277 and CX271 are now shipping. Date of availability varies so please contact the EIZO subsidiary or distributor in your country for details. EIZO will exhibit both monitors at the Photography Show in Birmingham, UK from March 1 - 4 in booth D20.
Product Information
ColorEdge CG277
ColorEdge CX271
About EIZO
Founded in 1968, EIZO Corporation is a leading global manufacturer of high-end visual display products. The image quality, long-term reliability, and innovative features of EIZO monitors make them the products of choice in many financial trading rooms, back offices, hospitals, air traffic control centers, design studios, and eSports organizations throughout the world. EIZO is based in Japan and listed on the first section of the Tokyo Stock Exchange. It is represented in over 70 countries and regions by a network of group companies and exclusive distributors.
For more information, please contact:
EIZO Corporation
153 Shimokashiwano
Hakusan, Ishikawa 924-8566
Japan
Phone: +81 76 277-6792
www.eizo.com
1 A graphics board and software which support 10-bit output are also necessary for 10-bit display.
2 The usage time is limited to 30,000 hours. RGB full pixel failure is zero for up to 12 months after date of purchase based on ISO9241-307 (pixel failure class I).

All product names are trademarks or registered trademarks of their respective companies. EIZO and ColorEdge are registered trademarks of EIZO Corporation.