Press Releases
EIZO Announces 24.1" Cost-Performance ColorEdge Monitor with Adobe RGB Coverage
Hakusan, Japan, September 2, 2014 – EIZO Corporation (TSE: 6737) today introduced the ColorEdge CS240, a 24.1-inch monitor that fits the varying needs and budgets of all levels of photographers and graphic design professionals. The ColorEdge CS240 offers many of the advanced features of other EIZO ColorEdge monitors such as a wide color gamut and hardware calibration. It also delivers benefits not usually available with cost-performance monitors such as dedicated calibration software that supports compatibility with a wide range of third-party calibration devices and a manufacturer's five-year warranty.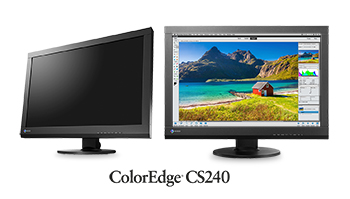 The ColorEdge CS240 features a wide-gamut IPS (in-plane switching) with a 1920 x 1200 native resolution and reproduces 99% of the Adobe RGB color space. With this extended gamut, images shot in RAW can be converted to Adobe RGB or images shot in Adobe RGB will be displayed in vibrant and lush colors. An LED backlight reduces power consumption to just 27 watts during typical operation and utilizes brightness modulation technology for flicker-free image display to help prevent eye fatigue.
The ColorEdge CS240 comes equipped with DisplayPort, HDMI, and DVI input terminals. With the DisplayPort input, the monitor offers 10-bit display1 (more than one billion colors simultaneously) from a 16-bit look-up table. In addition, it can display 10-bit color via the HDMI input terminal with Deep Color applicable devices.
EIZO's DUE (digital uniformity equalizer) technology compensates for uniformity errors common to all LCD panels to produce more even brightness and color across the screen.
For users that require a wide variety of calibration functionality, EIZO bundles its proprietary ColorNavigator 6 software. Preset target values for photography, printing, and web design are included for users looking for a simple way to calibrate the monitor. Experienced users can set their own target values for brightness, gamma, and white point, and generate an ICC profile. ColorNavigator 6 offers several advanced functions such as measuring the white of the paper to be used for printing for better screen-to-print matching and profile validation for verifying calibration results.
Because ColorNavigator 6 is proprietary software, EIZO has ensured it is compatible with a wide range of calibration devices from X-Rite, DataColor, and other manufacturers2 and supports both Macintosh and Windows operating systems. Updates to ColorNavigator 6 are available on www.eizo.com free of charge.
An ergonomic stand with 35° tilt, 344° swivel, portrait mode, and 130 mm height adjustment lets users place the screen in the optimal position. The stand has a sturdy build and includes a cable holder for a clutter-free desktop.
The ColorEdge CS240 is backed by a five-year manufacturer's warranty including the LCD panel3. This is at least two years more than the warranty of most monitors to ensure a long service life and low total cost of ownership.
Additional Features
Gamma curve for each monitor adjusted on the EIZO factory line.
Two upstream and two downstream USB ports.
Supports EIZO's UniColor Pro software that simulates color blindness so designers can choose color schemes for maps, road signs, web sites, etc. that can be viewed by everyone.
EIZO shading hood for reducing ambient light reflection available as an option.
Availability
The ColorEdge CS240 is now shipping. Date of availability and price vary so please contact the EIZO subsidiary or sales distributor in your country for details. EIZO will exhibit the ColorEdge CS240 at Photokina in Cologne, Germany from September 16 - 21 in hall 4.1 stand I025 J030.
About EIZO
Founded in 1968, EIZO Corporation is a leading global manufacturer of high-end visual display products. The image quality, long-term reliability, and innovative features of EIZO monitors make them the products of choice in many financial trading rooms, back offices, hospitals, air traffic control centers, design studios, and eSports organizations throughout the world. EIZO is based in Japan and listed on the first section of the Tokyo Stock Exchange. It is represented in over 70 countries and regions by a network of group companies and exclusive distributors.
For more information, please contact:
EIZO Corporation
153 Shimokashiwano
Hakusan, Ishikawa 924-8566
Japan
Phone: +81 76 277-6792
www.eizo.com
1 A graphics board and software which support 10-bit output are also necessary for 10-bit display.
2 For a complete listing of compatible calibration devices see http://www.eizoglobal.com/products/coloredge/cn/#anchor03
3 The usage time is limited to 30,000 hours.

All product names are trademarks or registered trademarks of their respective companies. EIZO and ColorEdge are registered trademarks of EIZO Corporation.