Press Releases
EIZO's ColorEdge CG2730 is the First to Win New EISA Award for Best Photo Display
Hakusan, Japan, September 6, 2017 – EIZO Corporation (EIZO) today announced that its ColorEdge CG2730 monitor has been named the Best Photo Display 2017-2018 by the European Imaging and Sound Association (EISA). It is the first monitor to be bestowed the award, which was newly added to EISA's award categories this year.
EISA is a unique association with a membership made up of over 50 expert publications from 25 countries – making it the largest editorial collaboration in the world for consumer electronics. For over 35 years, the association has been recognizing and celebrating the best in imaging technology by presenting awards annually in categories such as Photography, Home Theatre Display & Video, and Mobile Devices.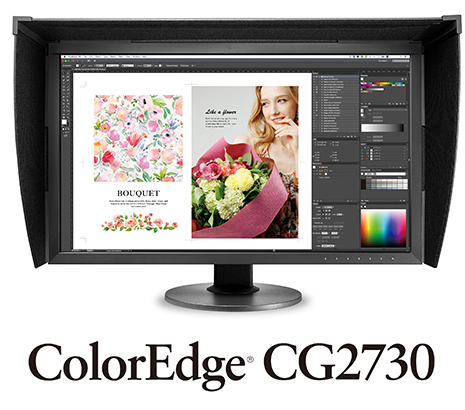 EIZO's 27-inch ColorEdge CG2730 won Best Photo Display under the Photography category and was cited as follows:
"The EIZO ColorEdge CG2730 fulfills the needs of a professional photographer. With a screen size of 27 inches and a high resolution, it can show an image at A3 size and still leave ample space for the adjustment palettes of your software. The picture quality is outstanding with a high contrast ratio (1500:1), the ability to reproduce deep blacks, and marvelous colors that cover 99% of the Adobe RGB color space. The most innovative feature is its easy-to-use built-in calibration sensor, which swings onto the screen when calibrating and allows different profiles to be saved, eliminating the need for third-party devices. Furthermore, the display comes with a shading hood."
ColorEdge CG2730 Product Information

About EIZO
EIZO (TSE:6737), which means image in Japanese, is a visual technology company that develops and manufactures high-end display solutions. EIZO integrates hardware and software technologies with consulting, web hosting, and other services to help customers in business, graphics, gaming, medicine, maritime, air traffic control, and other fields work more comfortably, efficiently, and creatively. Headquartered in Hakusan, Japan, EIZO has R&D and manufacturing facilities in Japan, China, Germany, and the US, and representation in more than 70 countries. For more information, please visit www.eizoglobal.com.
All product names are trademarks or registered trademarks of their respective companies. EIZO and ColorEdge are registered trademarks of EIZO Corporation.