Press Releases
EUROCONTROL Experimental Centre Selects Latest EIZO 2K × 2K Monitors for Simulation Rooms
Wolfrathausen, Germany, December 10, 2013 – EUROCONTROL has again chosen the Raptor SQ2804 2K × 2K primary control monitor from EIZO at their Experimental Centre in Brétigny Sur Orge, France.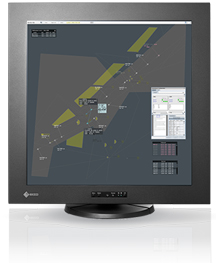 The Raptor SQ2804 monitors have been installed in a series of simulation rooms to equip controller positions, where a number of real-time simulation platforms and tools dedicated to airspace validation are used. These include ESCAPE (EUROCONTROL Simulation Capability and Platform for Experimentation), eDEP (Early Demonstration and Evaluation Platform), and ECS (EUROCONTROL Cockpit Simulator).
"We selected EIZO monitors because they were both financially competitive and went beyond fulfilling our technical requirements with regard to visual capability, reliability, as well as low energy consumption," according to José Seixo from EUROCONTROL.
About EIZO
EIZO is a leading global manufacturer of high-end visual display products. The image quality, long-term reliability, and innovative features of EIZO monitors make them the products of choice in many financial trading rooms, back offices, hospitals, air traffic control centers, and design studios throughout the world. Founded in 1968, EIZO is represented in over sixty countries by a network of group companies and exclusive distributors.
For more information, please contact:
EIZO Technologies GmbH
Bürgermeister-Seidl-Str. 8
82515 Wolfratshausen
Germany
Phone: +49 (0) 8171 3492-0
Fax: +49 (0) 8171 3492-16
www.eizo.com
atc@eizo.com

All product names are trademarks or registered trademarks of their respective companies. EIZO and Raptor are registered trademarks of EIZO Corporation.