Press Releases
EIZO Releases 23.5" Full-HD Monitor with 240 Hz High Refresh Rate for Satellite Images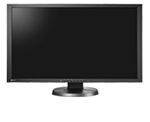 Hakusan, Japan, August 29, 2013 – EIZO Corporation (TSE: 6737) today announced the DuraVision FDF2405W, a 23.5-inch color LCD monitor for displaying satellite images.
The DuraVision FDF2405W reduces image lag with its 240 Hz blur reduction function. The monitor converts 120 Hz input signals to 240 Hz, doubling the number of frames for sharper, highly visible images with reduced motion blur that is caused by frame changes. This greatly contributes to eliminating eye fatigue that occurs when viewing scrolling or moving images.
The DuraVision FDF2405W also comes equipped with EIZO's patented drift correction circuit that stabilizes the screen brightness level within minutes after startup or from returning from power save mode. In addition, EIZO's Digital Uniformity Equalizer (DUE) technology improves picture quality by counteracting fluctuations in brightness and chromaticity across the screen.
A 3D LUT is used to adjust colors individually on an RGB cubic table. This improves the monitor's additive color mixture, a key factor in its ability to display neutral gray tones displayed in satellite images.
The DuraVision FDF2405W supports EPD (Equal Probability of Detection) gamma, defined by the United States National Geospatial Intelligence Agency. With it, the monitor displays subtle variations in tones more clearly in undefined areas of satellite images and aerial photos. The EPD preset mode ensures that each gradient step between black and white can be detected and defines objects and details in images that would otherwise be difficult to see.
The 3-pin mini-DIN connector equipped in the DuraVision FDF2405W generates a sync signal with 120 Hz input so the monitor can display 3D images using an active shutter 3D system.
The FDF2405W has a wide viewing angle of 176° so users experience minimal color shift when viewing the monitor from an angle. In addition, the high contrast ratio of 5000:1 combined with the maximum brightness of 350 cd/m2 maintains excellent screen visibility where details are essential. The non-glare panel also dissipates reflective light for high readability, even in bright ambient conditions.
Additional Features
Stand with wide height adjustment range, tilt, and swivel
Portrait mode capability
USB hub with one upstream and two downstream ports
Quiet fanless operation
Equipped with energy-saving LED backlight
Backed by a 2-year, 24-hour continuous use warranty
Availability
The DuraVision FDF2405W is now shipping. Date of availability varies so please contact the EIZO subsidiary or distributor in your country for details.
Product Information
About EIZO
Founded in 1968, EIZO Corporation is a leading global manufacturer of high-end visual display products. The image quality, long-term reliability, and innovative features of EIZO monitors make them the products of choice in many financial trading rooms, back offices, hospitals, air traffic control centers, and design studios throughout the world. EIZO is based in Japan and listed on the first section of the Tokyo Stock Exchange. It is represented in over sixty countries by a network of group companies and exclusive distributors.
For more information, please contact:
EIZO Corporation
153 Shimokashiwano
Hakusan, Ishikawa 924-8566
Japan
Phone: +81 76 277-6792
Fax: +81 76 277-6793
www.eizo.com

IR remitter, 3D glasses, and graphics board supporting 120 Hz are required to view 3D content.
All product names are trademarks or registered trademarks of their respective companies. EIZO and DuraVision are registered trademarks of EIZO Corporation.