Press Releases
EIZO Introduces 144 Hz Gaming Monitor with Smartphone and Cloud Solutions at Gamescom 2015
Cologne, Germany, August 5, 2015 – EIZO Corporation (TSE: 6737) today announced the FORIS FS2735, a 27-inch gaming monitor with a 2560 x 1440 resolution, 144 Hz refresh rate, IPS (in-plane switching) panel and AMD FreeSync compatibility. EIZO is combining cutting-edge hardware performance with its own new smartphone and cloud-sharing solutions called G-Ignition for a more integrated and enjoyable gaming experience.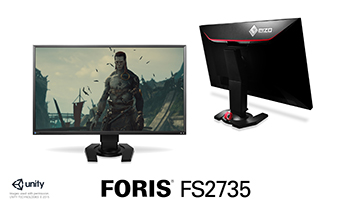 With the announcement of the FORIS FS2735, EIZO is unveiling two new additions to its G-Ignition software solutions: G-Ignition Mobile and G-Ignition Drive. G-Ignition Mobile is an iOS- and Android-compatible application that works with Bluetooth Smart technology built into the FORIS FS2735. For the first time, gamers can use their smartphones to adjust the monitor's brightness color, preset modes, and other settings when the FORIS FS2735 is connected to any platform be it Windows, Macintosh, or a console.
Gamers can also enable G-Ignition Mobile to post a notification in the corner of the FORIS F2735's screen whenever they receive a call or message on their smartphone. Gamers who use headphones no longer have to worry about missing an important call or e-mail because they could not hear their smartphone's ringtone.
G-Ignition Drive is EIZO's own cloud service where FORIS gamers can upload and share their gaming presets (monitor settings) with one another as well as download gaming presets made by professional gamers such as Ninjas in Pyjamas. Both G-Ignition Mobile and EIZO's legacy G-Ignition software for Windows can be used for accessing G-Ignition Drive. G-Ignition Drive is also available for other current FORIS models, the FS2434 and FG2421.
Like the FORIS FS2434, the FORIS FS2735 is equipped with EIZO's own Smart technologies to improve visibility and clarity.
Smart Insight – Available with the "Game" preset mode, this feature identifies dark areas of an image and adjusts each pixel individually to vastly improve in-game visibility. With the FORIS FS2735, EIZO has upgraded this feature and is calling it Smart Insight Demolition. It now also identifies areas that are too bright and adjusts them to enhance the contrast between characters in a game and the background.
Smart Resolution – Super-resolution technology that analyzes an image for noise and blurring and then corrects the blur without accentuating the noise.
In addition to a 144 Hz refresh rate, the FORIS FS2735 utilizes two technologies to produce the smoothest image display on a gaming monitor. The first is EIZO's motion blur reduction feature that controls the blinking of the LED backlight. The second is compatibility with AMD's FreeSync variable sync technology to eliminate stuttering and tearing.
Besides gaming, the FORIS FS2735 is ideal for other uses such as casual photo, watching films, web surfing, and reading documents. The monitor comes with Game, Cinema, Paper, sRGB, and user adjustable modes. EIZO will also upload custom settings for graphics use to G-Ignition Drive.
The FORIS FS2735 debuts a new slim cabinet design. The backside features a sleek horizontal red stripe and silver EIZO logo. Below the stripe is a handle for carrying the monitor to a LAN party or gaming event. Dual one-watt speakers are built into the back of the monitor. For viewing comfort, the stand provides 155 mm of height adjustment, 40° of tilt (35° up and 5° down), and 180° of pivot (90° right and left). A cable holder on the stand contributes to a clutter-free desktop.
One DisplayPort, two HDMI, and one DVI-D input provide connectivity with PCs, consoles, Blu-ray players and cameras. A USB 3.0 hub with one upstream and two downstream ports lets users connect to USB 3.0-compliant storage devices. A line-out jack for connecting to external speakers and a headphone jack provide further functionality.
Additional Features
Flicker-free viewing at all brightness levels
Reduced blue light with Paper mode so documents can be read more comfortably.
Auto EcoView brightness sensor that reads the ambient lighting and adjusts the screen's brightness to the ideal level
Five-year manufacturer's limited warranty*
Product Information
Availability
The FORIS FS2735 will begin shipping this winter. G-Ignition Mobile will be available for download free of charge from Google Play and the App Store on iTunes when the FORIS FS2735 is released. G-Ignition Drive will be online for use with current models (FORIS FS2434 and FG2421) by late September.
About EIZO
EIZO (TSE:6737), which means image in Japanese, is a visual technology company that develops and manufactures high-end display solutions. EIZO integrates hardware and software technologies with consulting, web hosting, and other services to help customers in business, graphics, gaming, medicine, maritime, air traffic control, and other fields work more comfortably, efficiently, and creatively. Headquartered in Hakusan, Japan, EIZO has R&D and manufacturing facilities in Japan, China, Germany, and the US, and representation in more than 80 countries.
For more information, please contact:
EIZO Corporation
153 Shimokashiwano
Hakusan, Ishikawa 924-8566
Japan
Phone: +81 76 277-6792
gaming.eizo.com
*The usage time is limited to 30,000 hours from the date of purchase.
All product names are trademarks or registered trademarks of their respective companies. EIZO and FORIS are registered trademarks of EIZO Corporation.