Press Releases
EIZO Announces a New 29.8-inch Monitor for Use in Examination and Operating Rooms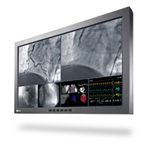 Karlsruhe, Germany, October 9, 2012 – EIZO GmbH is expanding its portfolio of medical surgical monitors to include the RadiForce LX300W, a new, high-bright 4 megapixel monitor. This LCD color monitor in widescreen format is designed for use in operating rooms (interventional radiology, cardiology, surgery) and features a new cooling concept and flexible operating modes.
The RadiForce LX300W has a resolution of 2560 x 1600 pixels on a 29.8-inch screen, as well as high contrast ratio and brightness values (1100:1, 750 cd/m²). It is also equipped with an environmentally-friendly, durable LED (Light-Emitting Diode) backlight. The new monitor is an ideal, value for money solution for smaller examination and operating rooms. In such cases, individual monitors increasingly are being replaced by large-format screens capable of displaying multiple image sources simultaneously.
The new cooling concept of RadiForce LX300W is designed to allow the minimum disturbance of controlled air flow in operating rooms. The flow provides germ and contaminant-free air but is impacted by additional fans in the room. The intelligent cooling system automatically measures the internal temperature of the monitor. Depending on the application area, the monitor can operate with a regulated fan or without any ventilation at all. In the lower temperature range, the fans operate either at reduced power or not at all. Depending on the set mode, to prevent overheating at higher temperatures either the fans are started up as needed or monitor brightness is reduced.
The new monitor is extremely flexible in terms of connection and operation. It has two DVI-D (single link) inputs, where one of the two connections can also be used in dual link operation. In addition, a DisplayPort 1.1 input is also available. Either one (full-screen mode) or two (divided screen or picture-in-picture mode) video cables can be connected. Planned enhancements include additional inputs, flexible image display, and operation in portrait format.
Using a separate DVI input, an image signal with increased priority can be activated, for example from the radiography system (live image). This ensures that the working physician always has an image on the monitor, even if there are errors or interruptions in the system's image transmission and processing chain. In case of error the monitor receives an emergency signal, the additional video signal is displayed in the upper left corner of the monitor. The operation in progress can therefore continue without interruption.
The RadiForce LX300W has a touch-sensitive (capacitive) control panel on the front of the unit that makes cleaning easy. The monitor is also available with protective glass which provides protection against damage and scratches and simplifies cleaning of the entire front. It can be ordered with or without a base so that it can be used in ceiling mounts or as a freestanding unit.
See product page for more details.

Availability
Production of the RadiForce LX300W is planned for the second quarter 2013. Availability may differ depending on local markets. Please contact the EIZO group company or distributor in your country for the latest information. Visitors to Medica 2012 in Düsseldorf, Germany will be able to see the new product for the first time in the EIZO booth, Hall 10, #G41.
About EIZO GmbH
EIZO GmbH is based in Karlsruhe, Germany and is a leading manufacturer of visual display solutions for medical imaging applications. The company portfolio includes color and grayscale monitors of 1 to 10 megapixels, image management systems, and accessories. EIZO GmbH is a subsidiary of Eizo Nanao Corporation, a global leader in the manufacture of high end monitors for medical and graphic design applications, financial trading, and other markets.
For more information, please contact:
EIZO GmbH
Siemensallee 84
76187 Karlsruhe
Germany
Phone: +49 721 20321-0
Fax: +49 721 20321-474
dt-contact@eizo.com