Press Releases
EIZO Helps Businesses Go Green at a Low TCO with New Lineup of FlexScan EcoView Monitors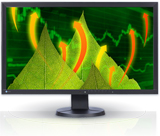 Hakusan, Japan, September 10, 2012 – Eizo Nanao Corporation (TSE: 6737) today announced it is revamping its FlexScan EcoView series with the release of five new monitors.

Made for business environments such as trading rooms, back offices, and control rooms, the EcoView series combines ecological features, visual ergonomics and a five-year warranty for a low total cost of ownership (TCO). The new lineup consists of the 23-inch EV2316W and EV2336W, the 24-inch EV2416W and EV2436W, and the 27-inch EV2736W.

The EV2336W, EV2436W, and EV2736W come with IPS (in-plane switching) LCD panels with 178° viewing angles. The EV2316W and EV2416W come with TN (twisted neumatic) LCD panels and 170° horizontal and 160° vertical viewing angles and an "UpView" function minimizes any washing out of colors that may occur when looking up to see the screen. All five monitors come with mercury-free LED backlights.

The EcoView series shares several features most notable of which is a slim bezel design. EIZO has reduced the bezel width up to 40% over previous models. The 23-inch models measure just 14.1 mm and 14.4 mm across the top/bottom and right/left side bezels respectively. For multi-monitor environments this saves desktop space and minimizes eye movement between screens.

The 23- and 24-inch models come with a choice of two stands. The first is the FlexStand 2 which offers up to 195 mm of height adjustment depending on the model along with tilt, swivel, and portrait mode display. The other is the TriStand 2 with a very compact footprint and 60 mm of height adjustment, tilt, and swivel. The FlexStand 2 comes standard with the 27-inch FlexScan EV2736W. All models can be mounted on VESA-compatible third party arms and stands.

The brightness dimming method used with conventional LED-backlit monitors cause many users to see flicker which results in eye fatigue. EIZO has come up with a solution that regulates brightness to make flicker unperceivable without drawbacks such as compromised color stability.

Another new EIZO-developed feature called EcoView Optimizer 2 saves up to 30% on energy consumption by reducing the backlight brightness and increasing the gain on screens consisting mostly of dark content as is common with many trading applications. Image quality is maintained because the reduction in brightness is almost unperceivable.

Auto EcoView, a legacy feature with EIZO FlexScan monitors, automatically adjusts the screen's brightness in accordance with changes in the ambient brightness. It trims power usage while reducing eye fatigue that would otherwise result from a screen that is too bright or too dark.

A presence sensor called EcoView Sense 2 detects when the user leaves the desk and automatically switches to power save mode. When the user returns then EcoView Sense 2 powers the monitor on again. This feature detects both the user's movements and body heat for increased accuracy.

Five preset modes are included – sRGB, Movie, Paper, and two modes with user-adjustable settings. Paper mode simulates the look of printed paper to help prevent eye fatigue when reading documents. In addition, a function called EyeCare Filter that is available with the bundled ScreenManager Pro for LCD (DDC/CI) utility software1 software offers several filter patterns that resemble different types of paper.
Additional Features
DisplayPort, DVI-D, and D-Sub inputs are included for digital and analog connectivity.2
1-watt internal speaker and a headphone jack.
Zero watts of power consumed when the main power switch is off.
Overdrive circuit to ensure real-time stock data and on-line videos are displayed without blurring is included with the EV2336W, EV2436W, and EV2736W.
Energy Star 5.1 and EPEAT Gold Compliance. The EV2436W and EV2416W fulfill the new TCO Certified Displays 6.0 label and other models are under application.
Available in a choice of black or gray.

See product pages for more details.
FlexScan EV2736W
FlexScan EV2416W
FlexScan EV2316W
Availability
All models begin shipping from the fourth quarter of this year. Date of availability varies by country so contact the EIZO subsidiary or distributor in your country for details.
About EIZO
Founded in 1968, Eizo Nanao Corporation is a leading global manufacturer of high-end visual display products. The image quality, long-term reliability, and innovative features of EIZO monitors make them the products of choice in many financial trading rooms, back offices, hospitals, air traffic control centers, and design studios throughout the world. EIZO is based in Japan and listed on the first section of the Tokyo Stock Exchange. It is represented in over sixty countries by a network of subsidiaries and exclusive distributors.
For more information, please contact:
Eizo Nanao Corporation
153 Shimokashiwano
Hakusan, Ishikawa 924-8566
Japan
Phone: +81 76 277-6792
Fax: +81 76 277-6793
www.eizo.com

# # #
1 ScreenManager Pro for LCD (DDC/CI) can only be used with the Microsoft Windows 7/Vista operating systems
2 D-Sub input not included with FlexScan EV2736W.

All product names are trademarks or registered trademarks of their respective companies. EcoView NET is a trademark, and EIZO and FlexScan are registered trademarks of Eizo Nanao Corporation.