Press Releases
EIZO Releases Free Application for Accurately Displaying Medical Images on the iPad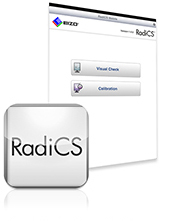 Hakusan, Japan, May 31, 2013 – EIZO Corporation (TSE: 6737) announced the release of RadiCS Mobile, a quality control application for Apple iPads compatible with viewer applications that use EIZO DICOM Framework software.

Medical images are increasingly being viewed on the iPad and other tablet devices in medical facilities. However, the image quality of these devices is not optimized to display medical images. In order to more accurately display images on the iPad or the iPad mini, EIZO has developed two software solutions – RadiCS Mobile and EIZO DICOM Framework.

RadiCS Mobile is a quality control application for detecting changes in the image display of iPads and performing adjustment accordingly. The application is available for free from the Apple App Store. RadiCS Mobile is compatible with viewer applications that use EIZO DICOM Framework.

EIZO DICOM Framework is software made for developers of image viewer applications. It makes it possible to display medical images that approximate DICOM Part 14* international standards using an iPad. The software is programmed for DICOM Part 14 support and can be integrated into viewer application content for DICOM Part 14 compliance. A viewer application that uses EIZO DICOM Framework can be used with RadiCS Mobile for accurately displaying medical images in accordance with DICOM Part 14 standards.

EIZO will be demonstrating RadiCS Mobile at booth #620 at the Society of Imaging Informatics in Medicine (SIIM) from June 6-9, 2013 at Gaylord Texan Resort, Grapevine-Dallas, Texas (USA).

About EIZO
EIZO is a leading global manufacturer of high-end visual display products. The image quality, long-term reliability, and innovative features of EIZO monitors make them the products of choice in many financial trading rooms, back offices, hospitals, air traffic control centers, and design studios throughout the world. Founded in 1968, EIZO is represented in over sixty countries by a network of group companies and exclusive distributors.
For more information, please contact:
EIZO Corporation
153 Shimokashiwano
Hakusan, Ishikawa 924-8566
Japan
Phone: +81 76 277-6792
Fax: +81 76 277-6793
www.eizo.com
*DICOM (Digital Imaging and Communications in Medicine) is an international network standard established by the American College of Radiation (ACR) and the National Electrical Manufacturers Association (NEMA) for consistency between medical image data and manufacturer medical imaging devices. The standardized display function for grayscale images is specified in Part 14 of the contents.
Apple, iPad, and iPad mini are registered trademarks of Apple Inc. EIZO and RadiCS are registered trademarks of EIZO Corporation. Copyright © 2013 EIZO Corporation. All rights reserved.