Press Releases
EIZO Releases 21.5" Fully Flat Multitouch Monitor for Factories, Clean Rooms, and Public Access Areas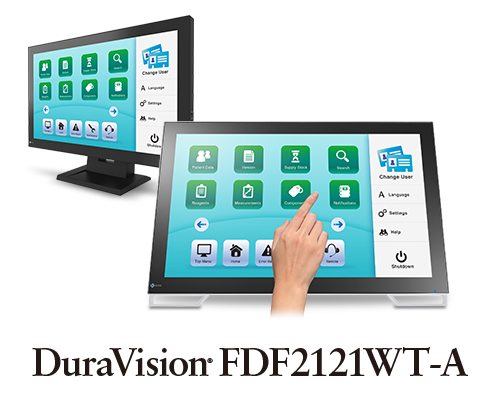 Hakusan, Japan, January 10, 2019 – EIZO Corporation (TSE: 6737) today announced the new DuraVision FDF2121WT-A – a highly durable 21.5-inch multitouch monitor with full HD (1920 x 1080) resolution for use in factories, hospital clean rooms, and public access areas.

The DuraVision FDF2121WT-A incorporates a fully flat design for seamless touch operation across the screen. It uses surface acoustic wave (SAW) technology which exhibits higher light transmittance compared to resistive touch panels for high visibility. The monitor supports 2-point multitouch operation and accepts touch input even when wearing gloves, as well as from styluses. This makes it easy to use in a range of environments with button selection or keyboard input applications. The multitouch interface is supported by standard Windows 10, 8.1, or 7 drivers so there is no need to install additional drivers to carry out touch operation.

The screen has a non-scratch surface made of reinforced glass with a hardness of 7H on the Mohs scale, making it durable for long-term use. The monitor is also built to withstand temperatures ranging from 0 - 40°C for increased durability in industrial environments.

The monitor's reclining stand provides flexible positioning of the screen from 15° to 70°. A desktop stand with tilt is also available, as well as compliance with the VESA standard for mounting on an arm or other fixture.
Additional Features
• DisplayPort, DVI-D, and D-Sub inputs
• 1.0 W + 1.0 W built-in stereo speakers
• 24-hour use, 3-year warranty
Availability
The DuraVision FDF2121WT-A is now shipping. Date of availability varies by country so contact the EIZO group company or distributor in your country for details.
Product Information
About EIZO
EIZO (TSE:6737), which means image in Japanese, is a visual technology company that develops and manufactures high-end display solutions. EIZO integrates hardware and software technologies with consulting, web hosting, and other services to help customers in business, graphics, gaming, medicine, maritime, air traffic control, and other fields work more comfortably, efficiently, and creatively. Headquartered in Hakusan, Japan, EIZO has R&D and manufacturing facilities in Japan, China, Germany, and the US, and representation in more than 80 countries.

EIZO, the EIZO logo, and DuraVision are registered trademarks of EIZO Corporation in Japan and other countries. The terms HDMI and HDMI High-Definition Multimedia Interface, and the HDMI logo are trademarks or registered trademarks of HDMI Licensing, LLC in the United States and other countries.