Press Releases
EIZO Expands Its ATC Tower Lineup with 31.5" 4K Touch Panel Monitor with Multiple Scalable Inputs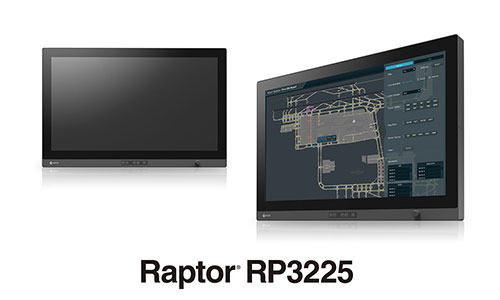 Wolfrathausen, Germany, February 28, 2019 – EIZO today announced the new Raptor RP3225 – a 31.5-inch 4K UHD (3840 x 2160) monitor for air traffic control (ATC) towers. The Raptor RP3225 adds to an already extensive lineup of tower monitors, allowing EIZO to continue to provide diverse options that meet individual installation requirements.

The Raptor RP3225 is equipped with a projected capacitive touch panel that features reduced reflection, touch durability, and multi-touch support. The monitor's fully-flat design provides a seamless touch experience across the screen.

Users can display input from up to four video sources to the monitor simultaneously. Each screen is scalable and can be freely positioned for a highly customizable layout. This is useful when multiple applications, such as runway maps and flight strips, need to be viewed in one location. Furthermore, 4K resolution ensures more information is displayed on the same screen for efficient viewing.

The monitor achieves an exceptionally wide brightness range from 10 to 700 cd/m2. EIZO's fully automated backlight stability function uses an internal sensor to stabilize the brightness level throughout the lifetime of the monitor, compensating for fluctuations caused by variations in ambient temperature and the passage of time. In addition, the Raptor RP3225 comes with an adjustment dial for smooth brightness control in the varying ambient lighting conditions characteristic of ATC towers. Antiglare protection glass also ensures that the screen maintains high visibility, even in bright ambient lighting.

The monitor's built-in network connectivity can be utilized for remotely maintaining the RP3225's status, adjusting settings, and selecting input signals.

The Raptor RP3225 is optimized for installation directly into a console with VESA support. It is also available with optional stands with up to either 35 or 26 degrees of tilt.

The Raptor RP3225 is developed specifically to meet the strict requirements of mission-critical ATC tower environments with 24/7 operation. It has full sheet-steel industrial-grade housing for durability and high performance in demanding environments. The monitor also provides noiseless, fanless operation for further reliability.

EIZO offers extensive customization of the Raptor RP3225 so system integrators and air navigation service providers (ANSPs) can optimize the monitor to best suit their needs. Customization includes, but is not limited to, mounting configuration, cabinet color, and audio input (via DisplayPort).

EIZO will be showing the Raptor RP3225 at World ATM Congress 2019 in Madrid, Spain March 12 – 14, 2019. Visit Booth #349 to see a live demonstration of the product.
Additional Features
• Two DVI and two DisplayPort inputs
• Flexible mounting options
• USB, RS-232C, and RJ-45 communication interfaces
• Optional external OSD keyboard
Availability
The Raptor RP3225 is now available. Please contact atc@eizo.com for details.
Product Information
About EIZO
EIZO (TSE:6737), which means image in Japanese, is a visual technology company that develops and manufactures high-end display solutions. EIZO integrates hardware and software technologies with consulting, web hosting, and other services to help customers in business, graphics, gaming, medicine, maritime, air traffic control, and other fields work more comfortably, efficiently, and creatively. Headquartered in Hakusan, Japan, EIZO has R&D and manufacturing facilities in Japan, China, Germany, and the US, and representation in more than 80 countries.


Screen image provided by THALES.

EIZO, the EIZO logo, and DuraVision are registered trademarks of EIZO Corporation in Japan and other countries. The terms HDMI and HDMI High-Definition Multimedia Interface, and the HDMI logo are trademarks or registered trademarks of HDMI Licensing, LLC in the United States and other countries.