Press Releases
EIZO Monitors Among First to Fulfill Updated EPEAT International Environment Standard Criteria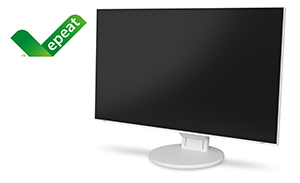 Hakusan, Japan, January 23, 2019 – EIZO Corporation (TSE: 6737) today announced that EIZO Corporation is one of the first companies to become registered under the EPEAT Registry 2.0, published on January 18. With this, eleven FlexScan monitors will be among the first products to meet the updated criteria.

EPEAT is the leading global ecolabel for PCs and monitors operated by the Green Electronics Council (GEC), a related organization of the EPA (Environment Protection Agency), and has existed since 2006. In addition to product design requirements such as the reduction of hazardous substances, use of recycled materials, and long-life design, a wide range of other requirements such as the company management system, waste collection, and recycling system are also regulated. EIZO has been registering with EPEAT since its early days and has confirmed the standards for all target monitors.

The criteria for the updated EPEAT has been updated for the first time in roughly ten years to include stricter guidelines in anticipation for the next decade. The new criteria not only concerns products, but now includes a wide range of company management practices such as CSR activities. Some of the new criteria includes:
Reduced use of harmful substances (bromine and chlorine) in plastics
A power consumption lower than the Energy Star standard
Provision of enhanced after-service information in consideration of the life cycle of products
Disclosure of LCA (Life Cycle Assessment) results
Disclosure of information regarding energy management
Disclosure of information regarding the use of conflict minerals
In addition to the below listed models, EIZO plans to register for future products.
Certified Monitors:
FlexScan EV2216W
FlexScan EV2316W
FlexScan EV2430
FlexScan EV2450
FlexScan EV2451
FlexScan EV2456
FlexScan EV2457
FlexScan EV2750
FlexScan EV2780
FlexScan EV2785
FlexScan EV3285
About EIZO
EIZO, which means image in Japanese, is a visual technology company that develops and manufactures high-end display solutions. EIZO integrates hardware and software technologies with consulting, web hosting, and other services to help customers in business, graphics, gaming, medicine, maritime, air traffic control, and other fields work more comfortably, efficiently, and creatively. Headquartered in Hakusan, Japan, EIZO has R&D and manufacturing facilities in Japan, China, Germany, and the US, and representation in more than 80 countries.
For more information, please contact:
EIZO Corporation
153 Shimokashiwano
Hakusan, Ishikawa 924-8566
Japan
Phone: +81 76 277-6794
www.eizoglobal.com

All product names are trademarks or registered trademarks of their respective companies. EIZO, the EIZO logo, and FlexScan are registered trademarks of EIZO Corporation in Japan and other countries.