Press Releases
EIZO Releases 2 Megapixel Color Medical Monitor with Slim Design and Features for Improved Ease of Use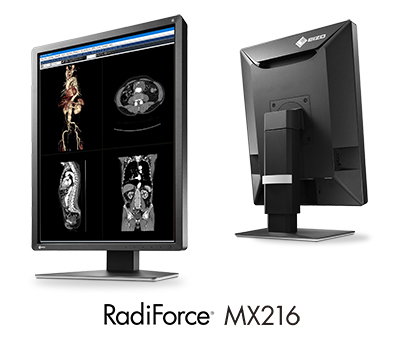 Hakusan, Japan, March 11, 2019 – EIZO Corporation (TSE: 6737) today announced the release of the RadiForce MX216, a 21.3-inch 2 megapixel color medical monitor ideal for viewing medical charts, as well as monochrome and color medical images. It comes with unique features for improved ease of use and saving space in the reading room.
The RadiForce MX216 is part of the RadiForce MX-Series – EIZO's line of cost-performance, medical-grade monitors for clinical review and more. As the successor to the MX215, the MX216 is a 21.3-inch 2 megapixel LCD color monitor ideal for viewing medical charts and images. The monitor is the first MX-Series monitor to be compatible with the Hybrid Gamma PXL function, where both monochrome and color images can be displayed on the screen at the same time in the appropriate grayscale and gamma curve. Furthermore, it is equipped with EIZO's unique Point-and-Focus function which comes with the bundled RadiCS LE software. With Point-and-Focus, specific areas of the screen can be selected and highlighted which changes the brightness and grayscale tone to make focusing easier, and improving ease of use.
The monitor also boasts a new cabinet design that is 23% smaller than the MX215 for a slim and space saving design. With a smaller cabinet, the monitor takes up less space on the desk for more freedom of installation.
Product Information
Availability
The RadiForce MX216 will begin shipping from April 2019. Date of availability varies by country so contact the EIZO group company or distributor in your country for details.
About EIZO
EIZO (TSE:6737), which means image in Japanese, is a visual technology company that develops and manufactures high-end display solutions. EIZO integrates hardware and software technologies with consulting, web hosting, and other services to help customers in business, graphics, gaming, medicine, maritime, and other fields work more comfortably, efficiently, and creatively. Headquartered in Hakusan, Japan, EIZO has R&D and manufacturing facilities in Japan, China, Germany, and the US, and representation in more than 80 countries.
For more information, please contact:
EIZO Corporation
153 Shimokashiwano
Hakusan, Ishikawa 924-8566
Japan
Phone: +81 76 277-6794
www.eizoglobal.com
EIZO, the EIZO Logo, RadiForce and RadiCS are registered trademarks of EIZO Corporation in Japan and other countries. All other company names, product
names, and logos are trademarks or registered trademarks of their respective companies.