Press Releases
EIZO Releases 54.6-inch 4K x 2K Primary Control Monitor with Smart Technologies for Air Traffic Control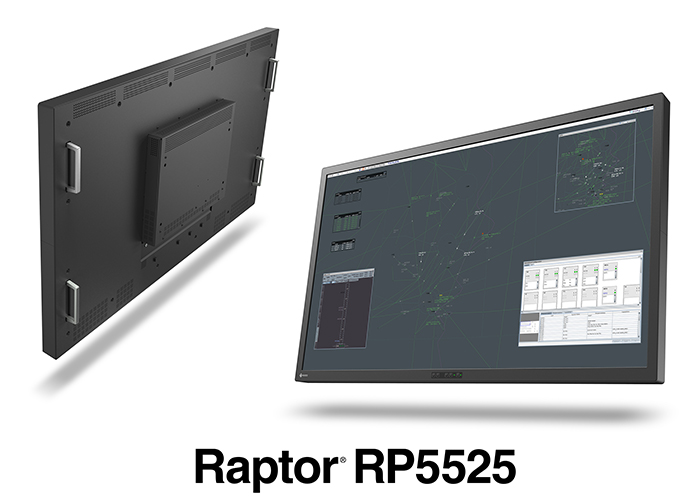 Hakusan, Japan, October 20, 2022 – EIZO (TSE: 6737) today announced the Raptor RP5525 – a 54.6-inch primary control monitor with 4K UHD (3840 x 2160) resolution for primary control in air traffic control (ATC) centers.
The Raptor RP5525 features a spacious 54.6-inch screen for viewing a high volume of information easily in one place. This provides the option for air navigation service providers (ANSP) to consolidate multiple applications on one screen for a seamless viewing experience. The 4K x 2K resolution displays visual information with a high level of detail for clear viewing.
The Raptor RP5525 is equipped with EIZO's Intelligent Display Platform (IDP) developed specifically for ATC. The IDP enables simultaneous display of video signals from up to four independent sources. Traditional Picture-in-Picture (PinP) and Picture-by-Picture (PbyP) functions are limited to a set number of predefined layouts, providing a relatively inflexible display environment. With IDP, users have complete freedom to place each window anywhere on the large screen, as well as scale and assign layer order priority.
Additionally, EIZO's SwitchLink internal switching management technology seamless switching of keyboard and mouse without the need for an external KVM switch. Up to four signal feeds can be connected to the RP5525, with outputs to accommodate up to two additional auxiliary monitors, for an up to six-workstation configuration operated by a single keyboard and mouse. With IDP and SwitchLink, users can take advantage of a smarter solution that streamlines operation and simplifies installation.
The Raptor RP5525 can be adjusted within a wide brightness range of 20 – 700 cd/m2 to optimize viewing in the installation environment as well as suit the needs of the air traffic controllers. The high contrast of 4000:1 (typical) ensures even subtle hue differences are displayed with clarity.
Additional Features
24/7 operation
DVI x 2, DisplayPort x 2
Noiseless, fanless operation
Industrial-grade housing
Built-in power supply
Product Information
Availability
The Raptor RP5525 is now available. Contact atc@eizo.com for details.

About EIZO
EIZO (TSE:6737), which means image in Japanese, is a visual technology company that develops and manufactures high-end visual solutions to enrich people in their professional and personal lives. EIZO offers total imaging solutions with a range of monitors, software, video capture, processing, and distribution solutions, cameras, and advanced integrated technologies to meet the specialized needs of customers in business, creative fields, healthcare, air traffic control, maritime, security & surveillance, and more. Headquartered in Hakusan, Japan, EIZO has R&D and manufacturing facilities in Japan, China, Germany, and the United States, and representation in more than 100 countries.
EIZO, the EIZO logo, and Raptor are registered trademarks of EIZO Corporation in Japan and other countries. All other company names, product names, and logos are trademarks or registered trademarks of their respective owners. Screen images provided by THALES.