Press Releases
EIZO Releases World's First Lightweight 2K x 2K Primary Control Monitor with VESA 100 x 100 Compliance and Smart Technologies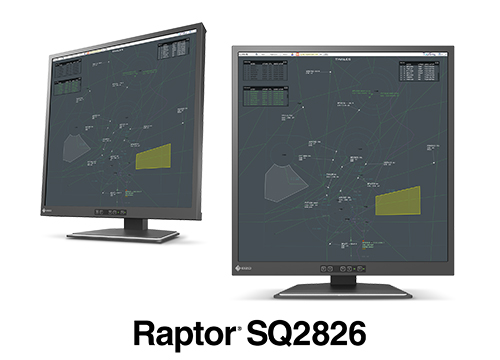 Hakusan, Japan, February 16, 2023 – EIZO (TSE: 6737) today announced the Raptor SQ2826 – a lightweight 28.1-inch primary control monitor with 2K x 2K (2048 x 2048) resolution for air traffic control (ATC). It is the successor model to the Raptor SQ2825.

The Raptor SQ2826 is the world's first 2K x 2K primary control monitor whose weight of just 9.2 kg, approximately 37% lighter than its predecessor, ensures it complies with 100 x 100 mm VESA mounting standards. This means that it can be reliably mounted to VESA supported arms and fixtures without needing an adapter or additional brackets, simplifying installation requirements. It is EIZO's 6th generation 2K x 2K primary control monitor and boasts the thinnest bezels of the lineup at just 15.5 mm, which is less than half that of the previous model for a sleek and compact design.

The Raptor SQ2826 is equipped with EIZO's new smart technologies for streamlining installation and operation. It is the industry's first primary control monitor to feature truly built-in image capture at the glass. Using the monitor's video signal output, all displayed image content, including the monitor's OSD menu operations, is accurately streamed to a second 2K x 2K signal compatible monitor via DVI. The monitor can also output the signal through EIZO's Re/Vue encoding & streaming device and SafeGuard data capture & content management solution to enable remote live viewing or to record to the server for a fully integrated ATC visual system.

In mission-critical ATC where every second counts ATCOs (air traffic control officers) need to be aware of any disruption to the images they see on the screen. EIZO's unique Last Frame Display function can detect if the video signal is disrupted and automatically displays the last available frame captured from the visual system accompanied by a text overlay to inform the ATCO of the status. This ensures the ATCO is immediately made aware of the disruption so appropriate action can be taken, such as following emergency protocols or accessing backup systems, while providing the last available visual information to refer to until the issue is addressed.

The monitor can be equipped with EIZO's SwitchLink internal switching management technology as an option. This enables seamless switching of keyboard and mouse without the need for an external KVM switch. Up to six workstations can be connected to the monitor and operated using a single keyboard and mouse.

As with its predecessors, the Raptor SQ2826 is equipped with a direct backlight system, which offers superior brightness uniformity compared to edge-type solutions. This ensures consistency in the way images are displayed and allows the LED cells to operate with higher efficiency, lowering overall power consumption and heat generation over the course of the monitor's life. Furthermore, EIZO's fully automated stability function uses an internal backlight sensor to stabilize the brightness level throughout the life of the monitor, compensating for fluctuations cause by variations in ambient temperature and the passage of time.

Additional Features
24/7 operation
Industrial-grade, lightweight aluminum housing
Desktop, VESA, chassis, and panel mount variations
Built-in power supply with secondary power supply as an option
Noiseless, fanless operation
Optional protection glass
Remote OSD settings control over the network

Visitors to the Airspace World 2023 exhibition in Geneva, Switzerland can see a live demo of the product at EIZO's booth G14 from March 8-10.
Airspace World 2023 Information
Product Information
Availability
The Raptor SQ2826 is now available. Contact atc@eizo.com for details.

About EIZO
EIZO (TSE:6737), which means image in Japanese, is a visual technology company that develops and manufactures high-end visual solutions to enrich people in their professional and personal lives. EIZO offers total imaging solutions with a range of monitors, software, video capture, processing, and distribution solutions, cameras, and advanced integrated technologies to meet the specialized needs of customers in business, creative fields, healthcare, air traffic control, maritime, security & surveillance, and more. Headquartered in Hakusan, Japan, EIZO has R&D and manufacturing facilities in Japan, China, Germany, and the United States, and representation in more than 120 countries.
EIZO, the EIZO logo, Raptor, Re/Vue, SafeGuard, and SwitchLink are trademarks or registered trademarks of EIZO Corporation in Japan and other countries. All other company names, product names, and logos are trademarks or registered trademarks of their respective owners. Screen images provided by THALES..