Press Releases
EIZO Releases Family of IP Decoding Solutions with New Future-Proof Decoding Platform and Seamless Integration into Security Systems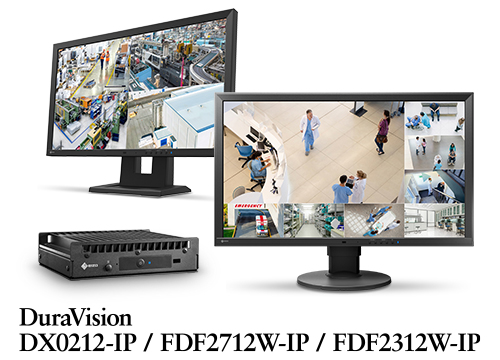 Hakusan, Japan, February 24, 2023 – EIZO (TSE: 6737) today announced the DuraVision DX0212-IP, FDF2712W-IP, and FDF2312W-IP – a new family of IP decoding solutions which includes two monitors (23- and 27-inch) and an external box format. The range implements a new IP decoding platform that is designed to be future-proof and upgradeable even post-installation.

The DuraVision FDF2712W-IP and FDF2312W-IP are two IP decoding monitors with Full HD resolution (1920 x 1080) which connect directly to an IP camera or switch to display video streams delivered over a network. The DuraVision DX0212-IP is an IP decoding box designed with the same decoding platform as the monitors and offers flexibility by being able to be combined with any screen size and supporting up to 4K UHD (3840 x 2160) resolution to dual monitors.

EIZO's IP decoding solutions do not require a PC, software, or hardware to operate, greatly simplifying installation and saving on time and labor costs. This also eliminates several points of failure and addresses security concerns typical of a conventional setup by heavily reducing the amount of equipment needed to manage sensitive visual data.

The new family of IP decoding solutions features EIZO's latest IP decoding platform designed to be future-proof and upgradable. EIZO offers periodic software updates to these solutions to implement newly developed technologies and features, which may be available as standard or as part of the advanced Enterprise License (sold separately). This upgradability ensures the products stay current throughout the life of the greater security & surveillance system for long-term reliability and that they continue to provide the latest functions for streamlined operation.

EIZO works with security & surveillance industry leaders to ensure its IP decoding solutions achieve technical compatibility and functionality with various video management systems/software (VMS). By fully integrating co-developed plugins into these VMS frameworks, users can easily setup, manage, and command EIZO's IP decoding solutions, connected cameras, and other settings from a centralized platform.

Furthermore, the IP decoding solutions support custom integration with local security systems and devices and allow communication and response to alerts over the network. When an event occurs and an alert is sent from IP cameras, access control, VMS, or other systems, EIZO's IP decoding solutions respond with a preassigned action, such as automatic layout adjustment, message display, camera PTZ adjustment, masking, and more. Implementing an intelligent visual communication system into the workflow ensures operators have the most pertinent information at the right time to response to situations quickly.

Users can subscribe to an optional Enterprise License which grants access to advanced features of the IP decoding solutions. Additional features include, but are not limited to, recorded video playback, remote live stream viewing via the web UI, menu customization, and support for additional protocols such as SRT (Secure Reliable Transport), LDAP (Lightweight Directory Access Protocol), and AXIS SRTP (AXIS Secure Real-Time Transport Protocol). To provide users with the flexibility of choice, EIZO offers the option to upgrade IP decoding solutions with the Enterprise License at any point, even after physical installation of the products is complete.
Product Information
Additional Features
Interoperable with over 300 cameras
Integration with GenetecTM Security Center
Integration with Milestone XProtect®
Privacy mask and virtual line visual functions
HTTPS protocol support for secure network communication
24/7 use, 2-year manufacturer's warranty
Availability
The DuraVision DX0212-IP, FDF2712W-IP, and FDF2312W-IP will begin shipping in March. The date of availability may vary by country or region. Contact the nearest EIZO group company or distributor for details.
About EIZO
EIZO (TSE:6737), which means image in Japanese, is a visual technology company that develops and manufactures high-end visual solutions to enrich people in their professional and personal lives. EIZO offers total imaging solutions with a range of monitors, software, video capture, processing, and distribution solutions, cameras, and advanced integrated technologies to meet the specialized needs of customers in business, creative fields, healthcare, air traffic control, maritime, security & surveillance, and more. Headquartered in Hakusan, Japan, EIZO has R&D and manufacturing facilities in Japan, China, Germany, and the United States, and representation in more than 120 countries.

EIZO, the EIZO logo, and DuraVision are registered trademarks of EIZO Corporation in Japan and other countries. AXIS is a registered trademark of Axis AB in various jurisdictions. Genetec, the Genetec logo, and Security Center are trademarks of Genetec Inc., and may be registered for pending registration in several jurisdictions. XProtect is a registered trademark of MILESTONE SYSTEMS A/S. All other company names, product names, and logos are trademarks or registered trademarks of their respective owners.