Press Releases
EIZO Medical Monitor and Software Comply with New International Standard for Quality Control of Medical Display Systems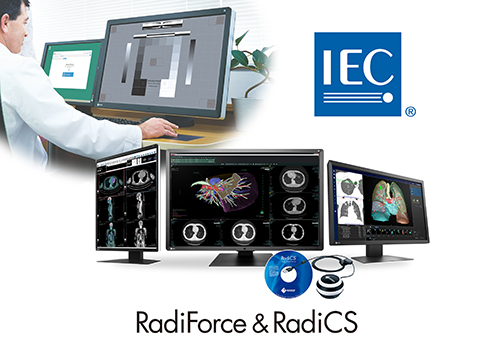 Hakusan, Japan, March 30, 2023 – EIZO Corporation (TSE: 6737) today announced that RadiForce medical monitors and the latest version of RadiCS medical monitor quality control (hereafter QC) software comply with the new international standard IEC 62563-2 set forth by the International Electrotechnical Commission (IEC).

To ensure the safety of medical practice, monitors used in the hospitals for the purposes of displaying medical images such as X-ray, CT, and MRI, need to be capable of doing so faithfully and defined as a product for medical use. Likewise, QC processes also need to comply with specific criteria to perform accurate checks and maintain the quality of imaging for continued use in medical applications.

There are several QC methods that are standardized by various national organizations, such as DIN 6868-157 established by the German Institute for Standardization (Deutsches Institut für Normung e.V.) and JESRA X-0093 established by the Japan Medical Imaging and Radiological Systems Industries Association (JIRA). However, as the evaluation methods of QC processes for medical monitors can be quite complex, there are many countries and regions without such standards available and recognized locally.

In November 2021, the IEC, headquartered in Switzerland, established a new QC standard for medical monitors – IEC 62563-2. The standard establishes the performance criteria and test frequencies for acceptance tests and constancy tests as they apply to medical image display systems. Engineer at EIZO's Healthcare Product Development Division, and a member of JIRA, Takashi Ota, initially proposed the necessity for an international standard in 2018. Leading discussions with experts in other countries as an active member in the IEC working group, he remained fully committed to the establishment of this new international standard, eventually resulting in the formal establishment of the standard in 2021.

In May 2022, IEC 62563-2 was accepted by the U.S. Food and Drug Administration as one of their recognized consensus standards for display devices for diagnostic radiology.

To ensure that EIZO RadiForce medical monitors can be used safely for medical imaging, each monitor is tested at the factory before shipment to confirm the compliance to each country's QC standards. For example, monitors being shipped to Germany are tested to comply with DIN 6868-157 and monitors being shipped in Japan are tested to comply with JESRA X-0093. From March 2023, EIZO now conducts tests for compliance with the IEC 62563-2 standard for all monitors being shipped to countries without prior existing QC standards.
Furthermore, the latest version of EIZO's RadiCS QC software also complies with IEC 62563-2. Customers who already have RadiCS installed can simply update to the latest version of the software to achieve compliance with the new standard.
EIZO believes compliance with IEC 62563-2 will contribute to the development of a safer and more secure diagnostic imaging environment, which will in turn contribute to the improvement in the quality of medical treatment where QC standards were not previously established.

Additional Information
QC Standards for Medical Monitors
RadiForce Medical Monitor Lineup
RadiCS Medical Monitor QC Software
About EIZO
EIZO (TSE:6737), which means image in Japanese, is a visual technology company that develops and manufactures high-end visual solutions to enrich people in their professional and personal lives. EIZO offers total imaging solutions with a range of monitors, software, video capture, processing, and distribution solutions, cameras, and advanced integrated technologies to meet the specialized needs of customers in business, creative fields, healthcare, air traffic control, maritime, security & surveillance, and more. Headquartered in Hakusan, Japan, EIZO has R&D and manufacturing facilities in Japan, China, Germany, and the United States, and representation in more than 120 countries.
EIZO, the EIZO logo, RadiForce, and RadiCS are registered trademarks of EIZO Corporation in Japan and other countries. All other company names, product names, and logos are trademarks or registered trademarks of their respective owners.