Press Releases
EIZO Releases Highly Durable 12.1-inch Touch Panel Monitor for Industrial Environments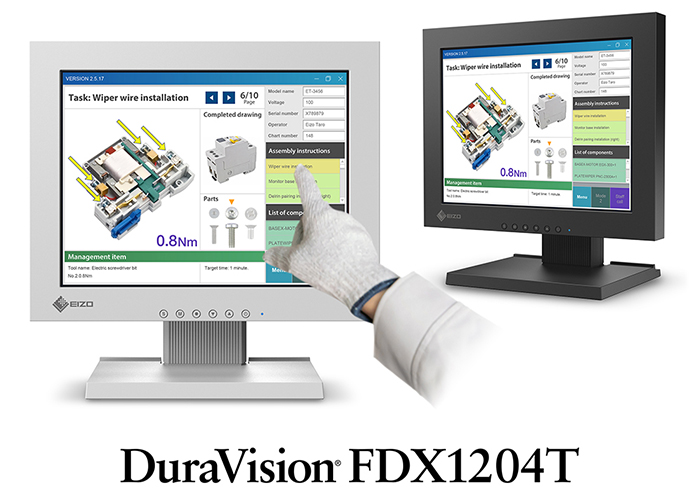 Hakusan, Japan, June 22, 2023 – EIZO Corporation (TSE: 6737) today introduced the DuraVision FDX1204T – a 12.1-inch monitor with 1024 x 768 resolution that is built to last in industrial environments.
The DuraVision FDX1204T is the successor model to the FDX1203T. The new model has updated input connections compared to its predecessor and is equipped with modern DisplayPort and HDMI inputs for connecting to a PC, in addition to a D-Sub 15 pin analog input.
To meet the requirements of varying installation environments, the monitor is available in three configurations: desktop, VESA mount, and panel mount. It is built for durability, capable of withstanding temperatures ranging from 0 to 50°C. Additionally, the cabinet does not contain any ventilation holes, making it impervious to liquids and dust.
The DuraVision FDX1204T is equipped with an analog resistive touch panel that accepts touch input with or without gloves, as well as from styluses. The panel is also resistant to dust and water compared to other touch technologies for increased durability.

Additional Features
Brightness of up to 390 cd/m2
180° image rotation for flexible positioning
2-year, 24-hour use manufacturer's warranty

Product Information
Availability
The DuraVision FDX1204T begins shipping in August 2023. The date of availability varies by country or region. Contact the nearest EIZO group company or distributor for more details.

About EIZO
EIZO (TSE:6737), which means image in Japanese, is a visual technology company that develops and manufactures high-end visual solutions to enrich people in their professional and personal lives. EIZO offers total imaging solutions with a range of monitors, software, video capture, processing, and distribution solutions, cameras, and advanced integrated technologies to meet the specialized needs of customers in business, creative fields, healthcare, air traffic control, maritime, security & surveillance, and more. Headquartered in Hakusan, Japan, EIZO has R&D and manufacturing facilities in Japan, China, Germany, and the United States, and representation in more than 120 countries.
EIZO, the EIZO logo, and DuraVision are registered trademarks of EIZO Corporation in Japan and other countries. DisplayPort is a trademark of the Video Electronics Association in the United States and other countries. The terms HDMI, HDMI High-Definition Multimedia Interface, HDMI trade dress and the HDMI Logos are trademarks or registered trademarks of HDMI Licensing Administrator, Inc. All other company names, product names, and logos are trademarks or registered trademarks of their respective owners.