Press Releases
EIZO and Qognify Collaborate to Integrate DuraVision IP Decoding Solutions into Qognify VMS for Security & Surveillance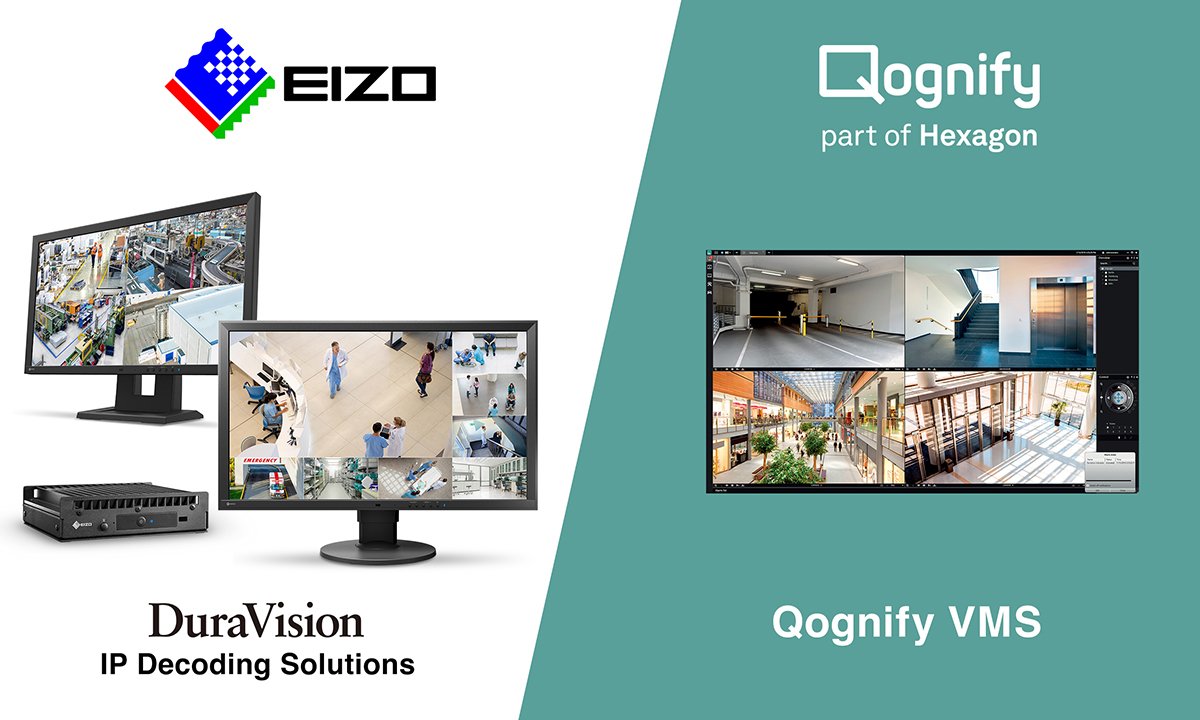 Hakusan, Japan, September 21, 2023 – EIZO Corporation (TSE: 6737) today announced that it has partnered with Qognify, one of the world's leading physical security solution providers, to integrate EIZO DuraVision IP decoding solutions into the Qognify VMS (video management software) ecosystem.

The complexity of today's physical security systems requires that siloed solutions become more closely integrated to streamline end-user operations and provide advanced functionality within technological ecosystems. EIZO and Qognify worked together to integrate EIZO's IP decoding solutions natively into Qognify VMS, allowing end-users to easily manage the video surveillance framework from within a single application.

EIZO's latest generation of IP decoding solutions, which include an IP decoding box and monitors, connect directly to an IP camera or switch with just a LAN cable to immediately begin streaming video without requiring a PC to operate. Qognify VMS is designed for corporate and enterprise projects with a focus on ecosystem connectivity, business process integration, and low total costs of ownership.

The integration of the two products allows users to control and monitor EIZO's IP decoding solutions directly from Qognify VMS including intuitive drag-and-drop for camera stream layouts, automatic detection and registration of cameras that are already a part of the VMS ecosystem, and display customization. This streamlines initial system setup and live operations by allowing users to access settings directly from a centralized solution without having to access the monitor's user interface separately. This also benefits environments where monitors are installed in remote locations, reducing the need for frequent site visits by personnel to make adjustments or perform maintenance.

Daniel Bechler, Director Global Partners & Alliances at Qognify states: "A major advantage of Qognify VMS is its ability to provide video centric operations of any scale with a single platform through which that can efficiently manage their entire surveillance operations. Its open enterprise architecture enables us to collaborate and seamlessly integrate solutions such as EIZO DuraVision that adds real benefit and value to our customers."

Masaki Kita, Operating Officer, R&D General Manager, Visual Products Department at EIZO Corporation said, "It's always been important for us to develop solutions that not only work reliably within the greater security system, but go beyond by seamlessly interfacing with it to reduce installer and operator burden. By working closely with the Qognify development team, we were able to create an interoperable solution that is intuitive and reduces the complexity of the initial setup of security frameworks."

Availability
The below listed products are integrated natively with Qognify VMS 7.2 and later for customers subscribed to EIZO's Enterprise License for DuraVision IP decoding solutions.
About Qognify
Qognify, part of Hexagon, helps customers minimize the impact of security, safety and operational incidents. Qognify's comprehensive portfolio of video management software and enterprise incident management solutions serve thousands of customers around the world in manufacturing, transportation, retail, education, finance, logistics, corrections, critical infrastructure and government. Hexagon is a global leader in digital reality solutions, combining sensor, software and autonomous technologies. Hexagon (Nasdaq Stockholm: HEXA B) has approximately 24,000 employees in 50 countries and net sales of approximately 5.2bn EUR.

About EIZO
EIZO (TSE:6737), which means image in Japanese, is a visual technology company that develops and manufactures high-end visual solutions to enrich people in their professional and personal lives. EIZO offers total imaging solutions with a range of monitors, software, video capture, processing, and distribution solutions, cameras, and advanced integrated technologies to meet the specialized needs of customers in business, creative fields, healthcare, air traffic control, maritime, security & surveillance, and more. Headquartered in Hakusan, Japan, EIZO has R&D and manufacturing facilities in Japan, China, Germany, and the United States, and representation in more than 120 countries.
EIZO, the EIZO logo and DuraVision are registered trademarks of EIZO Corporation in Japan and other countries. Qognify and the Qognify Logo are trademarks and/or registered trademarks of Hexagon AB or its subsidiaries/affiliates in the U.S. and/or other countries. All other company names, product names, and logos are trademarks or registered trademarks of their respective owners.