Press Releases
EIZO Receives FDA 510(k) Clearance from US FDA for 8MP RadiForce LS560W with LMM56800 Large Monitor Manager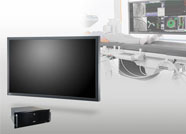 Cypress, CA, September 26, 2011 – Eizo Nanao Technologies Inc. ("EIZO") announced today that it has received FDA 510(k) clearance from the U.S Food and Drug Administration for its RadiForce LS560W monitor with LMM56800 large monitor manager that is ideal for use in interventional radiology and surgical suites.
The RadiForce LS560W with LMM56800 is a large 56-inch widescreen monitor with a 3840 × 2160 native resolution and bundled large monitor manager that can place and size source windows on the monitor so they are easily arranged. Furthermore, the LMM56800 facilitates creating different sets of window layouts according to special application needs. The flexibility in arranging and changing the size of the windows optimizes the workflow of surgeons and interventionalists. Important pictures can be scaled to the desired size and less important information can be moved out from visible area. Different workflow scenarios can be predefined and recalled on demand.
The LS560W's redundant component architecture (2 power supplies, 2 backlights, 2 transmission links), EIZO ensures a high degree of operational reliability for fail safe environments. A monitoring function can be configured to notify the system if operating conditions become critical or a component fails. It comes with a programmable software interface that can be controlled by customer applications. A service interface provides diagnostic and status information. Security features such as redundancy and cyclic life check of major system components, together with a fast signal processing speed of less than 16 ms per channel, are also included for further functionality.
RadiForce LS560W provides:
8MP resolution with 450 cd/m2 brightness, 1200:1 contrast ratio and 176 degree viewing angles.
Easy replacement of six 1.3 megapixel monitors without bezels.
Automated brightness stability.
Integrated calibratable LUT.
Redundant component architecture for highest operational reliability.
LMM 56800 can:
Collect 21 simultaneous signal sources.
Arrange information in flexible on-screen layouts.
Optional accessories include:
PDC0100 Analog-DVI converter for various modalities and input signals.
PDS0800 8MP DVI video splitter/HD scaler.
TDL transmission link carries signal up to 36 meter (118 feet) without degradation.
CID1000P 10.4-inch touch panel monitor for operation console.
For the highest degree of customer assurance, all components in patient vicinity comply with stringent medical, safety, and EMC emission standards. In addition, EIZO's quality management system for medical devices is ISO 13485 certified.
"We are pleased to add this product to our already existing FDA certified RadiForce monitor line-up," said Hiroshi Nagai, Product & Marketing Manager of Eizo Nanao Technologies Inc. "EIZO knows this large display system will be incredibly beneficial to medical facilities trying to streamline their equipment needs in their surgical and interventional suites."
For more information, please contact:
Joey Sanchez, Marketing & PR Specialist
Eizo Nanao Technologies Inc.
5710 Warland Dr., Cypress, CA 90630
Phone: 800-800-5202 x.140
Fax: 562-431-4811
About EIZO
Eizo Nanao Technologies Inc. is the North American subsidiary of Eizo Nanao Corporation, a leading Japanese manufacturer of high-end visual display products with a wide range of LCD computer monitors. The image quality, long-term reliability, and innovative features of EIZO monitors make them the product of choice in many financial trading rooms, hospitals, back offices, and design studios throughout the world. EIZO is based in Japan and represented in over thirty countries by a network of exclusive distributors.
EIZO and RadiForce are registered trademarks of Eizo Nanao Corporation.