Press Releases
EIZO Welcomes Members from Five Countries to the ColorEdge Ambassador Program
Hakusan, Japan, February 16, 2016 – EIZO Corporation (TSE: 6737) today announced the addition of five new Ambassadors to its ColorEdge Ambassador Program. The program, which was launched in November of 2015, showcases professional photographers, designers, filmmakers, and other creatives who are committed to inspiring and educating artists around the world of all levels. EIZO's Ambassadors – all of them ColorEdge users – are passionately dedicated to their craft and prepare the best equipment for realizing their creative vision.
The newest additions to EIZO's ColorEdge Ambassador Program are five established artists in the areas of photography and retouching: photographers Alexander Heinrichs (Germany), Marcin Dobas (Poland), Alexander Semenov (Russia), and Thibault Stipal (France) as well as color correction expert and retoucher Marco Olivotto (Italy). Each Ambassador has an individual profile on EIZO's dedicated ColorEdge Ambassador Program webpage which includes the Ambassador's bio, gallery of works, and experiences with their ColorEdge monitors.
The ColorEdge Ambassador Program now includes a total of 9 artists of varying fields and backgrounds. The program will continue to grow to provide informative and inspirational content for the graphics community on a global scale.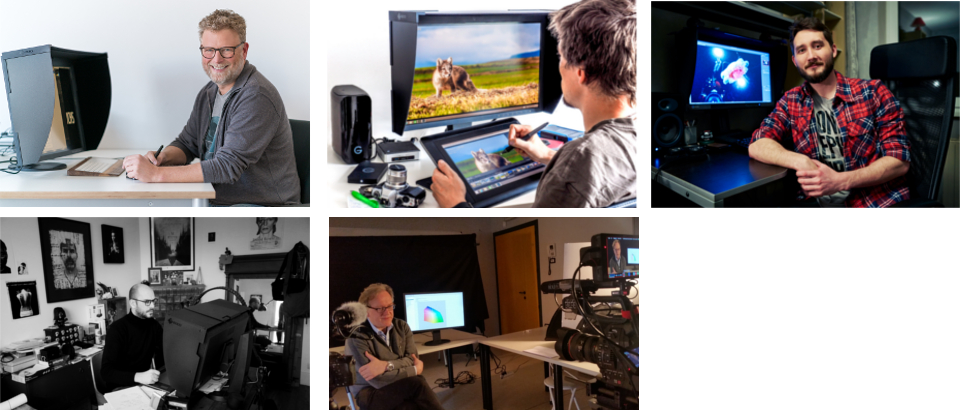 (left to right) Ambassadors Alexander Heinrichs, Marcin Dobas, Alexander Semenov, Thibault Stipal, and Marco Olivotto with their ColorEdge monitors
The ColorEdge series is EIZO's line of color management monitors for both professionals and aspiring creatives. Most ColorEdge monitors feature a built-in calibration or correction sensor and are supported by EIZO's own ColorNavigator 6 software to deliver predictable color results through hardware calibration and ease of use through completely automated screen adjustment.
About EIZO
EIZO (TSE:6737), which means image in Japanese, is a visual technology company that develops and manufactures high-end display solutions. EIZO integrates hardware and software technologies with consulting, web hosting, and other services to help customers in business, graphics, gaming, medicine, maritime, air traffic control, and other fields work more comfortably, efficiently, and creatively. Headquartered in Hakusan, Japan, EIZO has R&D and manufacturing facilities in Japan, China, Germany, and the US, and representation in more than 80 countries.
All product names are trademarks or registered trademarks of their respective companies. EIZO and ColorEdge are registered trademarks of EIZO Corporation.