Press Releases
EIZO Supplies 2K × 2K Monitors to DFS at Langen, Munich, and Bremen ATC Centers
Wolfrathausen, Germany, November 19, 2013 – EIZO Technologies GmbH (TSE: 6737) today announced that Deutsche Flugsicherung GmbH (DFS) has chosen EIZO's Raptor SQ2804 2K × 2K primary control monitor for installation in air traffic control centers in Langen, Munich and Bremen, Germany, as part of a four-year framework contract.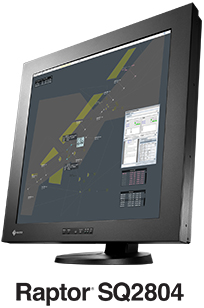 EIZO has been a supplier for DFS since 2002 and has provided them with numerous ATC monitor solutions including 2K × 2K, touchscreen, and high-bright tower monitors. With the new installation, the majority of the primary control systems at DFS will be equipped with EIZO monitors.
The Raptor SQ2804 achieved a very high score in DFS' evaluation. The technical and procurement departments at DFS commented, "We selected EIZO because they continue to meet our expectations with efficient and reliable products. The monitors' low power consumption and reduced heat generation are especially crucial for our control systems."
The Raptor SQ2804 is equipped with EIZO's unique eBlue LED backlight technology, featuring energy efficiency, reduced heat generation, and superior brightness uniformity across the screen.
Product Information
About EIZO
Founded in 1968, EIZO Corporation is a leading global manufacturer of high-end visual display products. The image quality, long-term reliability, and innovative features of EIZO monitors make them the products of choice in many financial trading rooms, back offices, hospitals, air traffic control centers, and design studios throughout the world. EIZO is based in Japan and listed on the first section of the Tokyo Stock Exchange. It is represented in over sixty countries by a network of group companies and exclusive distributors.
For more information, please contact:
EIZO Technologies GmbH
Bürgermeister-Seidl-Str. 8, 82515 Wolfrathausen
Phone: +49 (0) 8171 3492-0
Fax: +49 (0) 8171 3492-16
www.eizo.com
atc@eizo.com
All product names are trademarks or registered trademarks of their respective companies. eBlue is a trademark and EIZO and Raptor are registered trademarks of EIZO Corporation.