Press Releases
EIZO Introduces FORIS FS2434 Gaming Monitor with 6 mm Ultra-Slim Frame
Hakusan, Japan, June 12, 2014 – EIZO Corporation (TSE: 6737) today announced the FORIS FS2434, a 23.8-inch gaming monitor with a slim 6 mm frame. The FORIS FS2434 also offers vivid display of color and EIZO-developed "Smart" technologies for more enjoyable gaming. The monitor is ideal for RTS, MOBA, and MMORPG genres of PC gaming as well as console game genres of all types.

The 6 mm frame (2 mm bezel and 4 mm border at the edges of the LCD panel) along the sides and top of the monitor create almost seamless viewing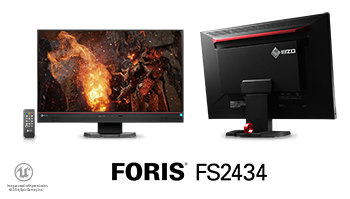 in a multi-monitor environment for a more immersive gaming experience. Colors remain vibrant with little change in contrast even when looking at the screen from an angle due to the IPS (in-plane switching) LCD panel and its 178° horizontal and vertical viewing angle. Input lag is an extremely low 0.05 frames so there is no delay between the time a signal is input into the monitor and shown on the screen.

Like previous FORIS FS monitors, the FORIS FS2434 is equipped with three of EIZO's own Smart technologies to improve visibility and clarity.
Smart Insight 2 – Available with the "Game" preset mode, this feature identifies dark areas of an image and increases brightness to make it simpler to spot enemies in the shadows. With the FORIS FS2434, Smart Insight 2 now also enhances saturation for greater contrast between characters in a game and the background.
Smart Resolution – super-resolution technology that analyzes an image for noise and blurring and then corrects the blur without accentuating the noise. This feature is "Smart" because it adjusts only those areas where it is needed.
Smart Detection – identifies where on the screen a video or game is being played and applies Smart Insight 2 or Smart Resolution.
To ensure visual comfort while playing games over long stretches of gameplay, the LED backlight is controlled with a hybrid of DC (direct current) and high-frequency PWM (pulse-width modulation) for flicker-free viewing at all brightness levels.
EIZO has simplified adjusting of the screen settings by including both a remote control and its own G-Ignition utility software (Windows 8, 7 and Vista compatible). G-Ignition software also lets users download gaming presets created by professional gamers from gaming.eizo.com or export their own customized color modes to other gamers who also own the FORIS FS2434. G-Ignition can be used to assign hot keys to turn the monitor's power and mute on/off, as well as adjust the color mode and aspect ratio.
Two HDMI and one DVI-D port provide connectivity with PCs, consoles, Blu-ray players and cameras. A USB 3.0 hub with one upstream and two downstream ports lets users connect to USB 3.0-compliant storage devices or connect their mouse and keyboard to the monitor. A line-out jack for connecting to external speakers and a headphone jack provides further functionality.
An ergonomic stand allows for positioning the screen at an angle most comfortable for the user. The stand includes 60 mm of height adjustment, 25° of tilt and 344° of swivel. The monitor can also be mounted on a VESA-compatible stand. A handle on the backside makes it simple to carry the monitor to a gaming event.
The FORIS FS2434 comes with seven preset modes making it ideal for other entertainment content in addition to gaming such as viewing videos, photos or the Web. The presets are Game (Dark Scene), Game (Light Scene), Cinema, Paper, Web/sRGB, and two user adjustable modes. Using the bundled G-Ignition software, any of the presets can be assigned to a game or other applications installed on the user's computer.
Additional Features
250 cd/m2 brightness
4.9 ms gray-to-gray response time
Dual 0.5 watt internal speakers
Auto EcoView brightness sensor that reads the ambient lighting and adjusts the screen's brightness to the ideal level
Power consumption is only 15 watts during typical operation and less than 0.5 watts in power save mode.
Five-year manufacturer's limited warranty*
Product Information
Availability
The FORIS FS2434 will begin shipping in late June. Date of availability varies so please contact the EIZO subsidiary or distributor in your country for details.
About EIZO
Founded in 1968, EIZO Corporation is a leading global manufacturer of high-end visual display products. The image quality, long-term reliability, and innovative features of EIZO monitors make them the products of choice in many financial trading rooms, back offices, hospitals, air traffic control centers, design studios, and eSports organizations throughout the world. EIZO is based in Japan and listed on the first section of the Tokyo Stock Exchange. It is represented in over 70 countries and regions by a network of group companies and exclusive distributors.
For more information, please contact:
EIZO Corporation
153 Shimokashiwano
Hakusan, Ishikawa 924-8566
Japan
Phone: +81 76 277-6792
www.eizo.com

*The usage time is limited to 30,000 hours from the date of purchase.
All product names are trademarks or registered trademarks of their respective companies. EIZO and FORIS are registered trademarks of EIZO Corporation.