Press Releases
EIZO and Grass Valley Collaborate to Equip EDIUS with Automatic Monitor Preset Switching
Hakusan, Japan, May 17, 2018 – EIZO Corporation (TSE: 6737) today announced that as part of a technical collaboration, Grass Valley, a Belden Brand has integrated the software development kit (SDK) for EIZO's 4K ColorEdge monitor into the latest version of EDIUS Workgroup 9.2 multiformat nonlinear editing software.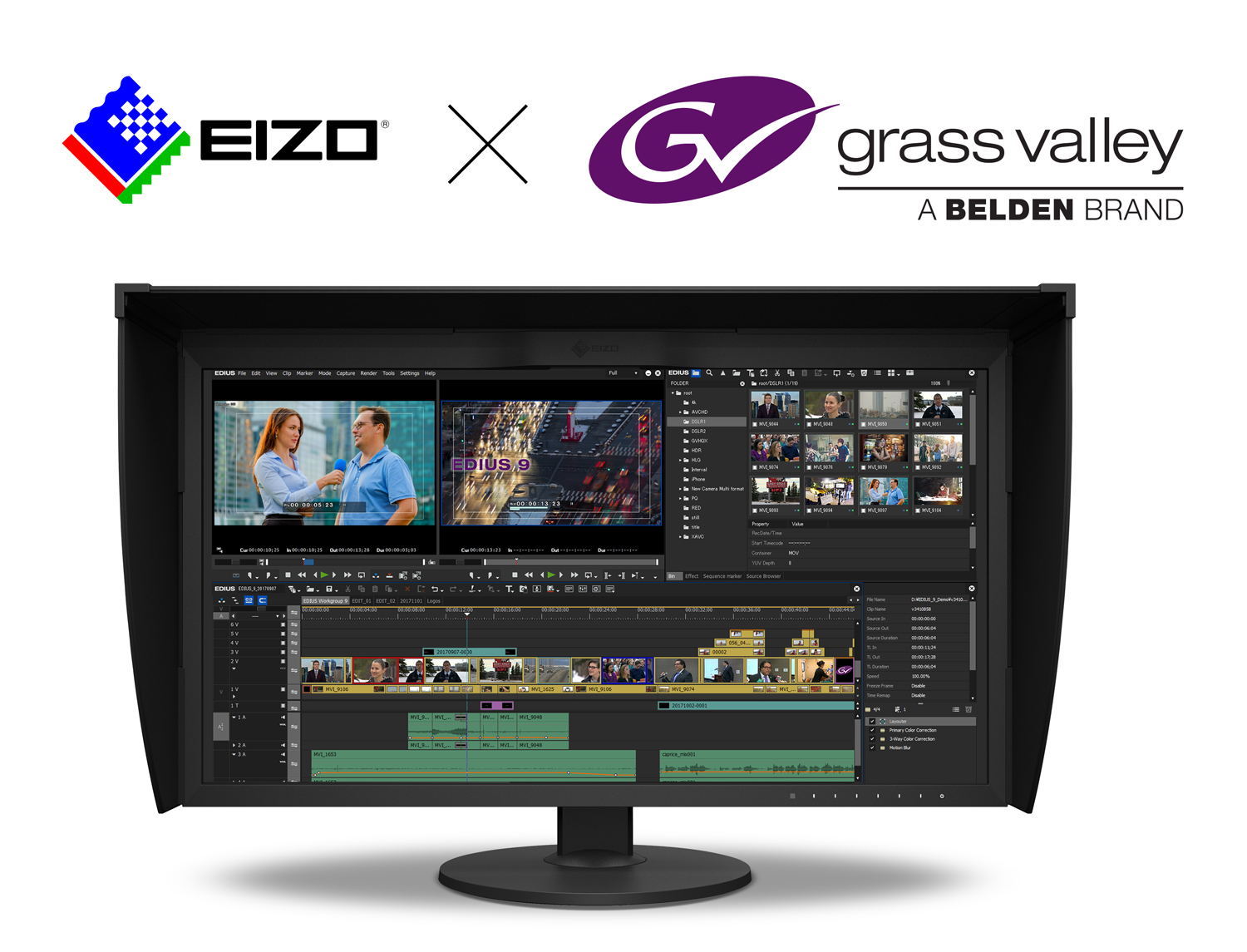 The supported EIZO monitors are ColorEdge PROMINENCE CG3145, CG319X (planned), CG318-4K (31.1-inch), and CG248-4K (23.8-inch). They offer DCI-4K (4K UHD for CG248-4K), HLG and PQ gamma curve support, a wide color gamut for working in DCI-P3, Rec. 2020, and other video and broadcasting standards. Grass Valley's EDIUS provides numerous creative options and real-time, no-render editing of SD, HD and even 4K and HDR formats.
Prior to the integration, users would need to select their project settings within EDIUS, for example Rec. 2020, and as an additional step, change the monitor's preset via the OSD menu to match the color space, also to Rec. 2020. With EDIUS Workgroup 9.2 and a supported ColorEdge monitor, users only need to select their project settings in EDIUS and the monitor's preset will automatically change to the appropriate selection. This streamlines the process and ensures that users are always working in the correct color space, even when changing between projects.
Katsushi Takeuchi, vice president and general manager, EDIUS at Grass Valley said, "Broadcasters have enough to focus on when producing content. This collaboration with EIZO makes the already fast and highly integrated EDIUS even more efficient for our users."
About Grass Valley
Grass Valley is focused on empowering customers to create, control and connect content wherever, however and whenever it is consumed. In this ever-changing media landscape, content remains the most important element. Many of our customers are faced with the need to create and support new workflows while continuing to operate their legacy workflows, simultaneously broadcasting through traditional channels, Over-The-Top platforms, and Video-On-Demand as well as to tablets, PCs, and mobile devices.
We provide the innovative tools and expertise to help customers improve the efficiency of their operations while telling better stories to attract and keep viewers. With Grass Valley's integrated solutions that enable flexibility, efficiency, cost-effectiveness, quality and scalability, broadcasters and content creators have what they need to sustain their businesses. Headquartered in Montreal, Grass Valley has been in the broadcast business for nearly 60 years and is part of St. Louis-based Belden Inc. For more information, visit www.belden.com.
About EIZO
EIZO (TSE:6737), which means image in Japanese, is a visual technology company that develops and manufactures high-end display solutions. EIZO integrates hardware and software technologies with consulting, web hosting, and other services to help customers in business, graphics, gaming, medicine, maritime, air traffic control, and other fields work more comfortably, efficiently, and creatively. Headquartered in Hakusan, Japan, EIZO has R&D and manufacturing facilities in Japan, China, Germany, and the US, and representation in more than 80 countries. For more information, please visit www.eizoglobal.com.
All product names are trademarks or registered trademarks of their respective companies. EIZO and ColorEdge are registered trademarks of EIZO Corporation.