Press Releases
EIZO Supplies HungaroControl with 2K x 2K and Auxiliary Monitors for New Air Traffic Control Center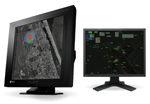 Wolfratshausen, Germany, August 1, 2012 – HungaroControl has chosen 2K x 2K primary control and 21.3-inch auxiliary monitors from EIZO for a new 10,000 square meter air traffic control center in Budapest, Hungary.

When the air traffic control center begins operations in December 2012, all controller positions will be equipped with one 2K x 2K monitor – the Raptor SQ2802, and four 21.3-inch monitors – the FlexScan S2100.

HungaroControl selected the Raptor SQ2802 after awarding it a perfect score on all its testing criteria. EIZO distinguished itself by offering the only monitor without a fan and having the lowest power consumption figures.

Another factor in the final decisions was to choose a monitor that minimized eye fatigue. In blind testing of the front glass for reflection, HungaroControl's air traffic controllers gave the Raptor SQ2802 the highest score.

The FlexScan S2100 was chosen because of its 21.3-inch screen size, 1600 x 1200 native resolution, and 4:3 aspect ratio. HungaroControl needed a monitor with these specifications to ensure optimal performance of the software that will be displayed on the screen.

"From a technical point of view our new air traffic control center will be the most advanced center in Europe so it's important to furnish it with equipment that will help us deliver outstanding service," said János Orosz, Head of Investment Unit at HungaroControl. "We were very pleased that EIZO could provide both 2K x 2K and auxiliary monitors to fulfill our requirements."
About EIZO
EIZO is a leading global manufacturer of high-end visual display products. The image quality, long-term reliability, and innovative features of EIZO monitors make them the products of choice in many financial trading rooms, back offices, hospitals, air traffic control centers, and design studios throughout the world. Founded in 1968, EIZO is represented in over sixty countries by a network of subsidiaries and exclusive distributors.
For more information, please contact:
Eizo Technologies GmbH
Buergermeister-Seidl-Strasse 8
82515 Wolfratshausen
Germany
Phone: +49 (0) 8171 3492-0
Fax: +49 (0) 8171 3492-16
www.eizo.com
atc@eizo.com