Press Releases
EIZO Releases 2 Megapixel Diagnostic Monitor with New Design and Unique Sharpness Recovery Technology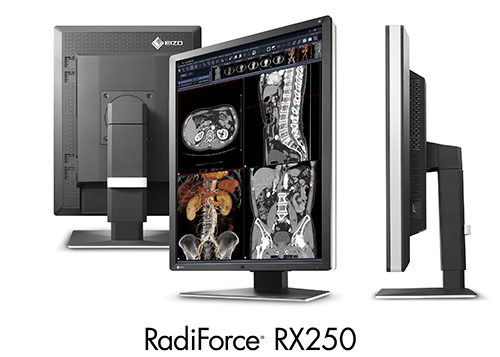 Hakusan, Japan, February 18, 2016 – EIZO Corporation (TSE: 6737) today announced the release of the RadiForce RX250, a 21.3-inch 2 megapixel monitor ideal for displaying CT, MRI, and CR grayscale images and color images such as 3D rendering and nuclear medicine scans.
The RadiForce RX250 is the successor model to the RadiForce RX240. The new monitor is equipped with EIZO's unique Sharpness Recovery technology. All high-brightness LCD panels exhibit a decrease in sharpness of the original image due to aperture ratio of the pixels becoming larger. EIZO's unique technology called Sharpness Recovery restores lost information in contours, resulting in an image shown with maximum clarity.
For keeping workspace efficient, the monitor's width, height, and depth were reduced by 15 mm, 37.5 mm, and 45.5 mm respectively – a 27% difference compared to its predecessor. The thinner, black front bezels are ideal for viewing the screen in dark reading rooms, making it easier to focus on images, while the original white stripe design around the sides of the monitor presents a fresh, clean aesthetic to promote a comfortable, user-friendly environment.
Using the DisplayPort connection on the monitor, users can drive several monitors in a daisy chain sequence. This allows users to configure a multi-monitor setup without the complicated hassle of excessive cabling.
Product Information
Availability
The RadiForce RX250 will begin shipping in April. Date of availability may vary by country so please contact the EIZO group company or distributor in your country for details.
EIZO will exhibit the RadiForce RX250 at the 2016 European Congress of Radiology (ECR 2016) in Vienna, Austria from March 2 – 6. Visit EIZO booth X5, #10 to see the product.
About EIZO
EIZO (TSE:6737), which means image in Japanese, is a visual technology company that develops and manufactures high-end display solutions. EIZO integrates hardware and software technologies with consulting, web hosting, and other services to help customers in business, graphics, gaming, medicine, maritime, and other fields work more comfortably, efficiently, and creatively. Headquartered in Hakusan, Japan, EIZO has R&D and manufacturing facilities in Japan, China, Germany, and the US, and representation in more than 80 countries.
For more information, please contact:
EIZO Corporation
153 Shimokashiwano
Hakusan, Ishikawa 924-8566
Japan
Phone: +81 76 277-6792
Fax: +81 76 277-6793
www.eizoglobal.com
All product names are trademarks or registered trademarks of their respective companies. EIZO and RadiForce are registered trademarks of EIZO Corporation.