Press Releases
EIZO Releases 21.3" and 23" Customizable Monitors for ATC Tower Applications
Wolfrathausen, Germany, August 18, 2015 – EIZO today announced the release of the Raptor RP2124 and RP2324 – two customizable monitors for use in air traffic control (ATC) towers. The new monitors expand EIZO's lineup of tower-specific monitors to range from 19 to 23 inches.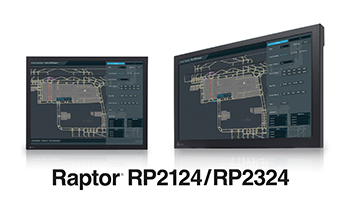 The Raptor RP2124 (21.3") and RP2324 (23") have a native resolution of 1600 x 1200 and 1920 x 1080 (full HD) respectively. Both monitors offer a wide dimming range from 10 cd/m2 to a high brightness of 650 cd/m2 for excellent readability of text and images in both bright and dim ambient lighting conditions. This makes them ideal for ATC towers where lighting conditions vary.
The monitors are equipped with EIZO's automated stability function which uses an internal sensor to stabilize the brightness level throughout the life of the monitor. This compensates for brightness fluctuations caused by variations in ambient temperature and the passage of time, ensuring the screen maintains high visibility.
To meet individual tower requirements, EIZO offers customizability with both monitors. Multiple configurations such as panel mount and VESA mount are available for flexible installation into a console or onto an arm or stand. A touch panel variation is offered as an option for environments where a touchscreen interface is required. The touch panel variation uses analog resistive touch technology which makes it more resistant to dust and other objects for increased reliability compared to other touch technologies.
The Raptor RP2124 and RP2324 are equipped with full sheet-steel industrial-grade housing for high durability. The monitors are developed, manufactured, and quality control tested in-house to ensure maximum reliability in mission-critical markets.
Product Information
Raptor RP2324
Raptor RP2124
Availability
The Raptor RP2124 and RP2324 are now available. Please contact atc@eizo.com for details.
About EIZO
EIZO (TSE:6737), which means image in Japanese, is a visual technology company that develops and manufactures high-end display solutions. EIZO integrates hardware and software technologies with consulting, web hosting, and other services to help customers in business, graphics, gaming, medicine, maritime, air traffic control, and other fields work more comfortably, efficiently, and creatively. Headquartered in Hakusan, Japan, EIZO has R&D and manufacturing facilities in Japan, China, Germany, and the US, and representation in more than 80 countries.

All product names are trademarks or registered trademarks of their respective companies. EIZO and Raptor are registered trademarks of EIZO Corporation.