Press Releases
EIZO Releases 17-Inch Monitor with LED Backlight and 5-Year Warranty
Hakusan, Japan, February 20, 2018 – EIZO Corporation (TSE: 6737) today announced the release of the FlexScan S1703-A, a 17-inch square LCD monitor with a 1280 x 1024 native resolution. The release of the S1703-A ensures that EIZO will continue to offer a stable supply of 17-inch monitors for customers that need to retrofit their legacy systems.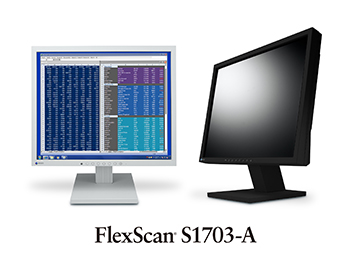 The S1703-A is the successor to the S1703 released in November 2012. It uses an energy-saving LED backlight and comes with EIZO's five-year manufacturer's warranty. It has both digital and analog inputs (D-sub mini 15 pin and DVI-D 24 pin), with a headphone jack and built-in speaker.
Preset modes sRGB, Paper, User 1 and User 2 (user-defined settings) are included for viewing comfort. A modulated light adjustment function prevents flicker at low brightness settings to reduce eye fatigue. It has a maximum brightness of 250 cd/m2 and a contrast ratio of 1000:1.
Product Information
Availability
The S1703-A will be shipping in April. The date of availability may vary by country, so please contact the EIZO group company or distributor in your country for details.
About EIZO
EIZO (TSE:6737), which means image in Japanese, is a visual technology company that develops and manufactures high-end display solutions. EIZO integrates hardware and software technologies with consulting, web hosting, and other services to help customers in business, graphics, gaming, medicine, maritime, air traffic control, and other fields work more comfortably, efficiently, and creatively. Headquartered in Hakusan, Japan, EIZO has R&D and manufacturing facilities in Japan, China, Germany, and the US, and representation in more than 80 countries.
All product names are trademarks or registered trademarks of their respective companies. EIZO and FlexScan are registered trademarks of EIZO Corporation.