Press Releases
EIZO Broadens Camera Compatibility and Functionality of its IP Decoding Monitors with VAPIX Support
Hakusan, Japan, September 27, 2016 – EIZO Corporation (TSE:6737) announced that both of its IP decoding monitors, the 23-inch DuraVision FDF2304W-IP and 46-inch DuraVision FDF4627W-IP, now support Axis Communications' VAPIX protocol.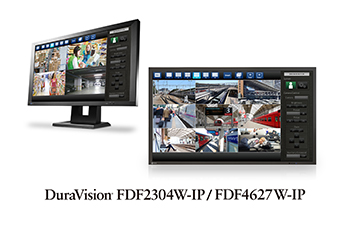 The DuraVision FDF2304W-IP and FDF4627W-IP are developed specifically for IP security and surveillance environments. VAPIX support broadens both monitors' compatibility with Axis security cameras to ensure interoperability with a wider range of devices. It also enables new functionality with the monitors such as the ability to display IP camera video feed in corridor format (3 screens).
Working closely with leading security camera manufacturers to support protocols for an increasing range of devices ensures reliable and efficient use of EIZO's DuraVision IP decoding monitors in integrated security and surveillance systems.
Product Information
About EIZO
EIZO (TSE:6737), which means image in Japanese, is a visual technology company that develops and manufactures high-end display solutions. EIZO integrates hardware and software technologies with consulting, web hosting, and other services to help customers in business, graphics, gaming, medicine, maritime, air traffic control, and other fields work more comfortably, efficiently, and creatively. Headquartered in Hakusan, Japan, EIZO has R&D and manufacturing facilities in Japan, China, Germany, and the US, and representation in more than 80 countries. For more information, please visit www.eizoglobal.com.
VAPIX is supported by IP monitor software version 4.1000.
All product names are trademarks or registered trademarks of their respective companies. EIZO and DuraVision are registered trademarks of EIZO Corporation.