Press Releases
EIZO Releases 21.3-Inch Medical Monitor with Sustainable Designed for Patient Chart Display and Diagnostic Image Review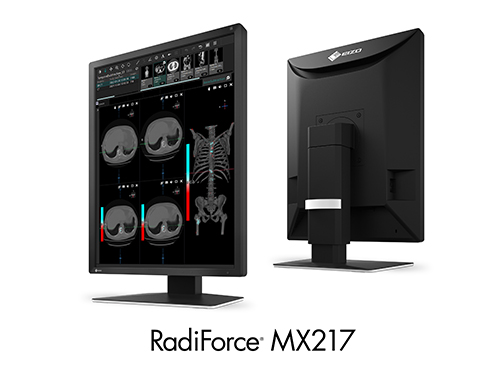 Hakusan, Japan, February 28, 2023 – EIZO Corporation (TSE: 6737) today announced the release of the RadiForce MX217, a 21.3-inch 2 megapixel (1200 x 1600 pixels) color monitor for displaying patient charts and reviewing diagnostic imaging in hospital and clinic environments.

The RadiForce MX217 is the successor model to the MX216. It retains the high performance and rich features of its predecessor, such as DICOM® Part 14 compliance so gradations remain consistent in monochrome medical images such as chest X-ray, CT, or MRI. The monitor also supports color display for reviewing images used in endoscopy, nuclear medicine, and ultrasound. This provides flexibility for displaying and reviewing data from various modalities.

The MX217 has an improved contrast ratio of 1800:1, compared to the 1500:1 contrast ratio of its predecessor. This ensures accurate display of deep blacks without washout in monochrome images.

Furthermore, the monitor comes with EIZO's unique Hybrid Gamma PXL function which automatically distinguishes between monochrome and color images pixel by pixel, creating a hybrid display. Monochrome pixels are displayed with the optimum DICOM Part 14 grayscale, while color pixels are displayed with the ideal Gamma 2.2 grayscale. In this way both color and monochrome images can be correctly displayed side by side on the same monitor.

With the RadiCS LE monitor quality control software (included) and Integrated Front Sensor built into the front bezel of the monitor, users can easily calibrate to DICOM Part 14 without having to mount, run, and remove an external sensor.

Users can configure a multi-monitor setup using the DisplayPort connection to drive additional monitors in a daisy chain sequence. This provides streamlined viewing of multiple applications, such as patient charts and medical images, without excess cabling.
EIZO strives to be a leader in responsible business and manufacturing process to protect the environment for a more sustainable future. The RadiForce MX217 is made of approximately 18% recycled plastic. This mitigates on the amount of plastic waste going into the environment, conserves resources, and promotes reuse of materials for preserving the natural ecosystems.
In addition, EIZO is moving away from using plastic and styrofoam in its packaging to reduce environmental impact. The new MX217 uses molded pulp made from recycled cardboard and newspaper in its packaging instead of conventional recycled styrofoam or plastic. The cables are wrapped in paper instead of plastic bags. EIZO aims to continue this and other responsible manufacturing practices to maintain high product quality while keeping the environment in mind.

Availability
The RadiForce MX217 will begin shipping in March. The date of availability may vary by country or region. Contact the nearest EIZO group company or distributor for details.

Product Information
About EIZO
EIZO (TSE:6737), which means image in Japanese, is a visual technology company that develops and manufactures high-end visual solutions to enrich people in their professional and personal lives. EIZO offers total imaging solutions with a range of monitors, software, video capture, processing, and distribution solutions, cameras, and advanced integrated technologies to meet the specialized needs of customers in business, creative fields, healthcare, air traffic control, maritime, security & surveillance, and more. Headquartered in Hakusan, Japan, EIZO has R&D and manufacturing facilities in Japan, China, Germany, and the United States, and representation in more than 120 countries.
EIZO, the EIZO logo, and RadiForce are registered trademarks of EIZO Corporation in Japan and other countries. DICOM is the registered trademark of the National Electrical Manufacturers Association for its standards publications relating to digital communications of medical information. All other company names, product names, and logos are trademarks or registered trademarks of their respective owners.